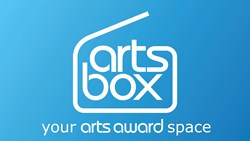 We are excited to see how young people use the site and turn it into a thriving online community.
(PRWEB) February 06, 2014
Trinity College London has announced the launch of arts portfolio website Artsbox which has already been named as a finalist in the Education Innovation Awards.
Built on the award-winning Makewaves framework, Artsbox provides a secure online space where young people can share their creativity, build a portfolio of their cultural journey, and work towards their Arts Award.
The site gives Arts Award advisers a unique facility to track their group's progress, deliver feedback, and help to prepare creative work for moderation and awarding.
The launch of the website follows extensive consultation and testing with over 300 young people from 25 Arts Award centres across the UK. As well as helping to shape the branding and design for Artsbox, young people led the development of the platform and its accompanying app for mobiles and tablets.
Makewaves CEO Mark Riches said: "We are very proud to be helping Trinity College London to launch Artsbox, and we are excited to see how young people use the site and turn it into a thriving online community.
"By consulting with young people at every step of the site's creation, we feel confident that we have been able to deliver a platform that meets their needs, and will prove to be a powerful tool in helping them to further their development in the arts."
Trinity College joins organisations like WWF, The Department for Education and The Paul Hamlyn Foundation, which have all launched successful websites based on the Makewaves framework. Artsbox features branding and design by digital agency Hot Pepper Design.
NOTES TO EDITORS
1. About Makewaves
Makewaves is a company with unrivalled expertise in the creation of safe, social learning platforms for young people.
Over 150,000 young people in the UK use platforms conceived, designed, built and managed by the Makewaves team. These platforms are used in schools, at home, and at youth centres by young people using computers, and also using handheld devices via Makewaves' award-winning apps.
The platforms built by Makewaves give young people real-world experience of social media and social networking in a safe, moderated environment, enabling them to share blogs, video, audio and other creative work quickly and easily online.
Since 2003, Makewaves has worked with schools, local authorities, charities and government departments to deliver rich engagement projects and online learning experiences for young people.
In 2013, Makewaves platforms were amongst the first to offer young people the opportunity to earn Mozilla Open Badges for online accreditation. Badges are becoming a powerful part of the Makewaves offering, giving teachers and leaders the opportunity to create their own badge ecosystems for in-depth, progressive learning.
2. About Artsbox & Arts Award
Funded by Arts Council England and the Department for Education, Artsbox has been developed with young people by leading social learning specialists Makewaves with brand and visual design by digital agency Hot Pepper Design. Artsbox will be rolling out to Arts Award centres in selected areas this autumn with widespread availability from Spring 2014. Artsbox has been created in line with 'Safe', the Nominet trust-funded, safe social networking certificate for young people. Makewaves is a member of the UK Council for Child Internet Safety (UKCCIS). Artsbox is a free online tool, and
is supported by a free app, both of which were developed in collaboration with young people.
Arts Award plays an increasingly significant role in supporting cultural education in the UK for young people up to the age of 25. Arts Award has five levels, four of which are accredited on the Qualifications Credit Framework (QCF). The award assesses art form knowledge and understanding, creativity and communication skills and helps prepare young people for further education and employment. Accreditation starts with Explore (Entry Level 3) and goes up to Level 3 or Gold Arts Award (35 points on the UCAS tariff). Discover, an introductory level, is now available for young children aged 5 plus. Arts Award contributes to achieving Artsmark status. Artsmark is Arts Council England's flagship programme which nationally recognises schools and educational organisations for their commitment to high quality arts and cultural education.
Arts Award is managed by Trinity College London in association with Arts Council England working with 10 regional Bridge organisations.
3.About Trinity College London
Trinity College London is a leading international examinations board that delivers over 600,000 assessments each year. Recognised by Ofqual, Trinity College London examinations extend across music, drama, and into English for speakers of other languages, with assessment at every level from beginner to higher-level qualifications. For more information on Trinity College London, telephone 020 7820 6100 or visit http://www.trinitycollege.co.uk.
4.About Arts Council England
Arts Council England champions, develops and invests in artistic and cultural experiences that enrich people's lives. The Arts Council supports a range of activities across the arts, museums and libraries – from theatre to digital art, reading to dance, music to literature, and crafts to collections. Great art and culture inspires us, brings us together and teaches us about ourselves and the world around us. In short, it makes life better. Between 2011 and 2015, Arts Council England will invest £1.4 billion of public money from government and an estimated £0.85 billion from the National Lottery to help create these experiences for as many people as possible across the country. http://www.artscouncil.org.uk