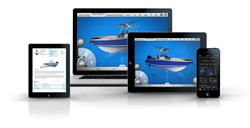 The Atlatl partnership with abas-USA underscores a growing trend to enable more cost-effective 'mass customization' by streamlining the entire customer order value stream.
Charleston, SC and Sterling, VA (PRWEB) February 01, 2014
Atlatl Software, a Six Axis LLC Company and pioneer of the software category "sales resource planning" (SRP), and abas-USA, a leader in mid-market enterprise resource planning (ERP) solutions, announced their partnership to provide abas-USA customers with Atlatl SRP software. The joint announcement was made by Matt Carter, COO of Atlatl SRP software and Alan Salton, president of abas-USA. Under the terms of the agreement, which took effect January 1, 2014, the abas-USA sales team will market Atlatl SRP software to its customers and prospects.
"We're enthusiastic about the opportunity to drive a significant shift in the ERP market whereby our combined ERP and SRP expertise will deliver a much improved customer experience when purchasing complex engineered-to-order products," said Salton.
Both companies expressed a growing demand from small and mid-size manufacturers to add value by enabling greater customization—a key focus of the partnership.
"Our partnership with abas-USA underscores a growing trend to enable more cost-effective 'mass customization' by streamlining the entire customer order value stream from initial sales visit to final delivery," said Carter.
He explained that the partnership supports increased market demand for greater front-end (sales) and back-end (manufacturing) integration. This integration will improve the efficiency and accuracy of the design and specification process while enabling planning and manufacturing to maintain the highest quality standards.
Simplifying the complexity of selling and manufacturing configurable products:
Atlatl SRP software integrates engineering rules, parts masters and pricing information into an innovative 3D, virtualized interface. Using a laptop or gestures on an iPad®, sale reps render a 360 degree simulation of the product configuration as it will appear in the customer's native system. A quote, complete with engineering drawings and bill of materials, can be issued.
Atlatl SRP solutions represent a paradigm shift in the way companies can interact with customers and prospects. Real time interactions— from CRM and configurations to quoting and creating bills of material—accelerate delivery performance. Deep integration into abas ERP gives the customer an end-to end solution that includes MRP, scheduling, procurement management, inventory, service and complete financials. It is a total solution for configure-to-order, build-to-order and engineer-to-order manufacturers.
"Atlatl adds value in the upstream sales and order entry process and abas-USA does the same for downstream manufacturing. Together we provide a substantial competitive advantage – top line growth and bottom line savings for manufacturers of complex, configurable products," said Rob Honeycutt, Atlatl CEO.
About Atlatl Software
Atlatl Software is a Six Axis LLC company based in Charleston, SC. Founded in 2012, the company's focus, like the eponymous ancient tool, is on creating incredible leverage. Built for sales and manufacturing by sales and manufacturing specialists, Atlatl SRP Software is the first 3D enterprise-class selling solution that uses the latest in human interface design and mobile technologies to deliver information and efficiency to sales and manufacturing professionals, helping them sell and produce more products in less time.
For more information, download the Atlatl SRP Software Guide, The Ultimate Sales Tool. To learn more about Atlatl SRP visit the Atlatl Software website or call (855) 762-8528.
About abas-USA:
Founded in 1980, ABAS Software AG is a leading provider of cost-effective ERP solutions for midmarket manufacturers and distributors. abas Business Suite is an ERP & eBusiness application designed specifically for distributors and manufacturers in the Assemble-to-Order, Make-to-Order and Engineer-to-Order environment. Their software is priced to fit most budgets while delivering full ERP functionality. Operating on LINUX, SAAS and Windows, abas Business Suite's flexibility, scalability and ease of use have demonstrated consistent ROI for its customers. The abas solution includes mobile apps, eBusiness, CRM, Document Management, BI and a complete ERP solution.
For more information about abas-USA visit our website or contact us at 703.444.2500.