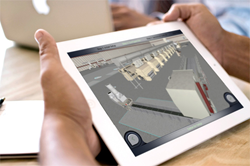 3D technology is transforming the way we manufacture ETO products; Atlatl is applying 3D and virtualization to transform the way we sell.
San Francisco, Calif. (PRWEB) September 30, 2014
Atlatl Software—Booth 3417 Moscone West Hall—pioneer of the software category Sales Resource Planning (SRP), debuts its 3D configurator at Oracle OpenWorld (#OOW14). An Oracle Gold Partner, Atlatl developed the CPQ module to simplify how complex engineer-to-order (ETO) products are sold. It compresses the sales process by as much as 70 percent and enables manufacturers' reps to close deals in as little as one visit.
The unique 3D virtualized interface is key to the CPQ module's high adoption rate among mid to large enterprise manufacturers and their direct and external sales channels. Atlatl CPQ is as fun and engaging to operate as today's popular gaming apps such as Minecraft. However, beneath the simplicity of the interface is a complex matrix of engineering rules that govern accurate physical and material properties.
Using tablet gestures, sales reps simply swipe, pinch, stretch, or with a laptop, drag and drop parts onto a simulation of the environment in which the product will operate. All this is accomplished at the customer's site in one visit. With a tap or click, the configuration converts to a quote, complete with engineering drawings down to the subcomponent level, if applicable.
From a customer experience perspective, the sales presentation is as fun and engaging for the customer as it is for the rep, and customers often commit to a purchase order on the spot. The CPQ module integrates with MRP and ERP systems, giving planners visibility early in the process, which reduces production and delivery time. Customers receive the right product faster than was ever conceivable for ETO products.
"3D technology is transforming the way we manufacture ETO products; Atlatl is applying 3D and virtualization to transform the way we sell. We're pleased that Oracle users can now leverage this powerful tool to sell more ETO products faster, giving them a distinct competitive advantage," said Rob Honeycutt, Co-founder.
Oracle users can log into the Oracle Cloud Marketplace for more information about Atlatl Velocity Sales Automation Suite.
About Atlatl Software
Atlatl Software is a SixAxis LLC company based in Charleston, S.C. Founded in 2012, the company established the Sales Resource Planning (SRP) software category. SRP is SaaS-based and combines the best elements of CPQ, CRM and SFA into a single application using a revolutionary 3D interface. Atlatl SRP Software was built by sales and manufacturing specialists and is the first 3D enterprise-class selling solution that uses an advanced, intuitive interface design and the latest in mobile technologies to deliver information and efficiency to sales and manufacturing professionals, helping them sell and produce more products in less time and at a lower cost.
For more information, download the Atlatl SRP Software Guide, The Ultimate Sales Tool. To learn more about Atlatl SRP visit the Atlatl Software website or call (855) 462-8528.