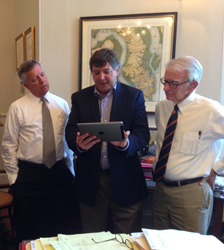 We develop the only software on the planet that salespeople love to use.
Charleston, S.C. (PRWEB) September 24, 2014
Atlatl Software announced that it will be moving its headquarters around the corner from its current location on 205 King Street to a newly constructed class A office building on 174 Meeting Street in Charleston's Historic Central Business District. The decision to move is the result of increased hiring to support the company's rapid growth.
"We're pleased to bring hundreds of new tech jobs to the area and contribute to the growth of what's been dubbed 'Silicon Harbor,'" said Rob Honeycutt, Atlatl Co-founder. Honeycutt met with Charleston Mayor Joseph P. Riley, Jr. on August 27 to finalize the terms of the agreement. The mayor received a demonstration of the innovative Atlatl Sales Resource Planning software.
The Atlatl logo will grace the top of the newly constructed building located on Meeting Street between Market and Cumberland Streets. The building, which was finished last year, will house approximately 150 people with capacity to double that amount. The new headquarters will include artists, software engineers and developers, as well as project managers, sales and marketing and administrative support. The company also employs additional software developers in its offices in Portland, Ore. and Cupertino, Calif. and continues to recruit top talent from around the U.S.
Atlatl's growth stems from market demand for a faster, more effective way to sell complex engineer-to-order products. With a growth rate of an overwhelming 1,474 percent, Atlatl has been focused on adding production and support resources as fast as possible. Nationwide recruiting efforts are successfully bringing new and talented team members to the Charleston, S.C. headquarters. Atlatl's customers are manufacturers that build and sell products in industries ranging from high-tech cotton ginning to building products, complex machinery and specialized industrial parts, including pumps and valves.
"We saw a pressing need by manufacturers of configurable products to enable their sales team and channel partners with a more efficient sales tool that lets them quote, sell and produce more products faster than anything currently on the market, including typical Customer Relationship Management (CRM) and Configure Price Quote (CPQ) applications," said Fred Harmon, Atlatl Co-founder.
"So we developed Atlatl Sales Resource Planning (SRP) software that takes a completely new approach by combining a 3D virtualized interface with powerful engineering rules to deliver an experience that's engaging and effective. Our customers have reported significant revenue growth and much higher profit margins as a result of Atlatl SRP software," said Harmon.
The 3D virtualized interface is key to the application's high adoption rate, which is driving more sales and improved profits for manufacturers' reps and their extended sales channels. "We develop the only software on the planet that salespeople love to use," said Honeycutt.
Walk into an Atlatl office and the development team resembles that of any high-tech Silicon Valley startup—mobile application developers, user interface designers, 3D modeling artists and software engineers. It also includes a unique mix of mechanical engineers and project managers with manufacturing backgrounds. The company recently hired CEO Kyle Mashima, a Silicon Valley native who's held senior-level positions at Adobe. In addition, the company is growing its management team with seasoned veterans from Amazon and Disney.
The company plans to move into its new location in approximately three months, following upfit of the space, which is leased and managed by Holder Properties.
About Atlatl Software
Atlatl Software is a SixAxis LLC company based in Charleston, S.C. Founded in 2012, the company established the Sales Resource Planning (SRP) software category. SRP is SaaS-based and combines the best elements of CPQ, CRM and SFA into a single application using a revolutionary 3D interface. Atlatl SRP Software was built by sales and manufacturing specialists and is the first 3D enterprise-class selling solution that uses an advanced, intuitive interface design and the latest in mobile technologies to deliver information and efficiency to sales and manufacturing professionals, helping them sell and produce more products in less time and at a lower cost.
For more information, download the Atlatl SRP Software Guide, The Ultimate Sales Tool. To learn more about Atlatl SRP, visit the Atlatl Software website or call (855) 462-8528.