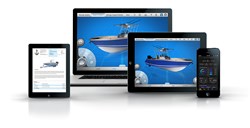 Thanks to Atlatl, we're applying really innovative 3D technology to streamline our selling process
Charleston, S.C. February 3, 2014 (PRWEB) February 03, 2014
Atlatl Software, the pioneer of "Sales Resource Planning" (SRP™) software, today announced that Atlatl has been selected by WireCrafters to provide its broad network of distributors with Atlatl's on-demand configure, price and quote (CPQ) technology. With Atlatl, WireCrafters' distributors will be able to accelerate their quote-to-cash capabilities—driving the conversion of sales opportunities into detailed quotes and firm orders with its intuitive user experience, guided selling tools, and real-time pricing—via any connected device. WireCrafters is the U.S.'s leading manufacturer of woven and welded wire partitions.
WireCrafters' choice was also driven by the highly detailed, engineering-level drawings that are generated as part of each quote. Atlatl's patent-pending 3D virtualized product configurator renders professional engineering drawings every time a quote is generated. For the first time, WireCrafters' inside sales reps and its distributors are able to configure and quote wire partition systems on the spot with an iPad® simply by using Atlatl's patent-pending tablet gestural configuration engine. The quoting process now takes just minutes instead of hours, and revisions are just as simple.
"We apply technology to streamline our manufacturing processes. Now, thanks to Atlatl, we're applying really innovative 3D technology to streamline our selling process too," said Steve Diebold, WireCrafters President.
After years of leaning out production processes, WireCrafters is now leveraging Atlatl's technology to also 'lean forward' and generate scalable efficiencies throughout WireCrafters' entire sales, dealer, and distributor network.
Removing the complexity of selling configurable products:
An Atlatl project team worked with WireCrafters to build a database of WireCrafters' products and contextualize its challenging engineering rules and underlying product configuration complexities. At the same time, a team of Atlatl developers with human machine interface design and 3D virtualization expertise prepared renderings of each WireCrafters product type.
This critical 'digitization' phase established the technological foundation from which any WireCrafters user can now easily render product configurations and issue quotations via Atlatl's groundbreaking SRP™ software. The software was built and delivered to them so that all the sales reps or distributors now have to do is simply tap, drag, and drop specific parts into a virtual environment that simulates WireCrafters' customers' facilities. Atlatl's proprietary SRP™ technology ensures that WireCrafters, and every other Atlatl SRP™ customer, experiences rich, easy to use interfaces that bring dramatically increased efficiency and effectiveness to the sales process.
"The Atlatl team was extremely detailed and responsive to loading in our more than 600 component parts," said Aaron Eubanks, WireCrafters Sales Representative. "By time they completed testing, they knew our products as well as we did."
As the Atlatl project team finished the 'digitization' process, with all parts identified by each of their variations of scale and material, the final tally of WireCrafters parts available for sales rep and distributor utilization within their SRP™ configurator is more than 2.6 million SKUs.
A new selling paradigm: real-time, 3D virtualization:
"Awesome" was a word uttered frequently during the recent launch and training session hosted by the Atlatl project team in their Charleston, S.C. headquarters. The session included the WireCrafters team and several WireCrafters dealers who were clearly inspired by this new paradigm in selling their complex configurable products: real-time, 3D virtualization.
"The visualization and views are very powerful," said Diebold. "We see our sales going up, and our engagement with our dealers dramatically increasing, because the Atlatl SRP™ is neat and easy to use," he added.
Prior to Atlatl, WireCrafters completed all quotes for its dealers, who would visit the customer site, take measurements and submit the information to WireCrafters for a quote. WireCrafters would determine a price for the material and create a hand drawn sketch of the layout as they understood it. Anytime something was not communicated correctly, a revised quote had to be issued. Turnaround time to issue a quote was approximately four to six hours, and before Atlatl SRP™, it could take as much as a week to catch up and finalize the hundreds of quotes issued by the company each week.
Now WireCrafters' reps can do their own quotes using the Atlatl application. In just minutes, WireCrafters' dealers can configure a 3D layout on their iPads right in front of the customer. Sales reps accomplish more at each sales visit and have a greater impact on the customer because they're able to collaborate with them on the design and deliver a quote immediately.
"You increase your chance of getting the order because the customer sees the solution instantly," said Milt Tandy, WireCrafters' Director of Sales and Marketing.
The power of Atlatl's virtualization enables the customer to visualize exactly how the WireCrafters system will fit into their facility, including a 360-degree perspective. From the virtualization, a quote is then issued using a simple tap. Quotes include engineering drawings and a bill of materials (BOM), which speeds up the order fulfillment process. Now, the customer has everything needed to make a decision in just one visit. Revisions are handled in minutes and orders are processed more quickly.
Speeding adoption speeds selling:
Within 48 hours of the launch event, WireCrafters sales reps, dealers, and distributors were generating professional-looking quotes and engineering drawings complete with WireCrafters and their dealers' branding. WireCrafters dealer Cisco-Eagle plans to also use the Atlatl SRP system to issue quotes for numerous requests coming from their website.
"I see this being a huge tool. Being in the internet inquiry side of the business, the faster you reply the more they stop looking," said Taylor Banks, Cisco Eagle Director of Strategic Sales. Banks plans to reallocate resources to gain more efficiency by assigning some of the more simple configurations to one colleague, freeing up another colleague's time to handle more complex configurations with the Atlatl SRP™ software.
"We're honored to be selected by such a successful and well-respected company. WireCrafters is a perfect example of why we developed Atlatl software—to help them get greater mind share from their dealers and distributors and make it easier for them to sell more of WireCrafters' products," said Rob Honeycutt, Atlatl CEO. He added, "We're looking forward to working with the WireCrafters team for many years to come."
About Atlatl Software:
Atlatl Software is a Six Axis LLC company based in Charleston, SC. Founded in 2012, the company's focus, like the eponymous ancient tool, is on creating incredible leverage for its customers, their sales reps, and their distributors. Built for sales and manufacturing by sales and manufacturing specialists, Atlatl SRP™ Software is the first 3D enterprise-class selling solution that uses the latest in human interface design and leverages mobile technologies to deliver information and efficiency to sales and manufacturing professionals, helping them sell and produce more products in less time and at lower cost.
About WireCrafters:
WireCrafters is the nation's leading producer of wire partition products. A family business, WireCrafters has been continuously owned and operated by the Diebold family since its start in 1967. Their products are manufactured in Louisville, Kentucky using domestically produced raw materials. WireCrafters owns and operates warehouses in Philadelphia, Pennsylvania and Sparks, Nevada, allowing stock orders to be quickly shipped anywhere in the country - usually within 48 hours.
For more information, download the Atlatl SRP Software Guide, The Ultimate Sales Tool. To learn more about Atlatl SRP visit the Atlatl Software website or call (855) 762-8528.