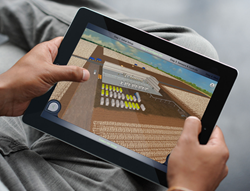 We knew this was game-changing technology, and we needed to implement it.
Charleston, S.C. (PRWEB) May 08, 2014
Atlatl Software, pioneer of the software category "Sales Resource Planning" (SRP™), today announced that Samuel Jackson, Inc., a leader in moisture management technologies for cotton gins, selected Atlatl SRP to help its global sales force design, quote and close more cotton conditioning systems. The systems are available in numerous configurations depending upon an extensive set of parameters for each application.
"When we first saw Atlatl in action at a trade show, it stopped us dead in our tracks. What would typically require more than a week's worth of engineering time and customer meetings to generate a quote, literally took just minutes," said Chris Jackson, President, Samuel Jackson, Inc. "We knew this was game-changing technology, and we needed to implement it."
Samuel Jackson, Inc. selected the Atlatl application for its patent-pending 3D virtualized product configurator that gives direct sales and channel partners the ability to quickly and easily design, quote and often close deals in just one sales visit. The combination of 3D user interface, easy tablet or laptop operation and manufacturing planning visibility sealed the deal.
Atlatl SRP does in minutes what used to take months:
Using a mobile device or laptop computer, Samuel Jackson's direct sales and extended dealer / distributor sales teams will be able to do in minutes what used to take weeks or months. They'll tap, drag and drop parts into a virtual 360-degree rendering of the customer's facility, and within a few minutes, issue a price quotation complete with engineering drawings and bill of materials. As soon as the quote is issued, manufacturing planning has visibility to the parts and subcomponents required to build the product, giving them greater inventory control and streamlining manufacturing.
"When you're in the business of growing and ginning cotton, timing can have huge implications on cotton quality and output. Atlatl SRP software is helping us provide our customers the right moisture control technology when and where it's needed so they maximize their yields at lower costs," said Jackson.
Atlatl SRP revolutionizes a traditional American industry:
Eli Whitney's cotton gin invention was innovative for its time. Now Samuel Jackson is applying the 3D virtualized technology and powerful engineering rules behind Atlatl SRP to allow cotton gins to take advantage of a host of powerful Samuel Jackson efficiency technologies that work in concert to squeeze every drop of profit out of this very old process. Thanks to Atlatl's technology, cotton ginning specialists and Samuel Jackson representatives have a 3D canvas, in the form of an iPad, to illustrate their points and watch their concepts and dreams take immediate form, whether in a conference room or in the field... literally.
"To be successful in 21st century American business, it takes vision and an appetite for risk. We had 100 percent confidence in project leaders Neil Turner (Samuel Jackson) and Brian Dieffenderfer (Atlatl) to successfully develop the new app and are enthusiastic about the new opportunities it will bring our sales team," said Jackson.
Atlatl SRP software reduces both cost of sales and cost of goods sold by more closely integrating front-end sales and back-end manufacturing processes, which, prior to Atlatl SRP, have been a challenge for manufacturers of complex, engineer-to-order products.
"We're pleased to support Samuel Jackson's sales transformation, especially given their reputation for putting technological innovations into the hands of a quality staff. Now they can do the same for their sales and distribution channels using Atlatl technology to produce a step-change in sales and manufacturing efficiencies," said Rob Honeycutt, CEO, Atlatl Software.
About Atlatl SRP Software:
Atlatl Software is a Six Axis LLC company based in Charleston, SC. Founded in 2012, the company's focus, like the eponymous ancient tool, is on creating incredible leverage for its customers, their sales reps and distributors. Built for sales and manufacturing by sales and manufacturing specialists, Atlatl SRP Software is the first 3D enterprise-class selling solution that uses the latest in human interface design and mobile technologies to deliver information and efficiency to sales and manufacturing professionals, helping them sell and produce more products in less time and at lower cost.
For more information, download the Atlatl SRP Software Guide, The Ultimate Sales Tool. To learn more about Atlatl SRP, visit the Atlatl Software website or call (855) 462-8528.
About Samuel Jackson, Inc.:
Samuel Jackson, Inc. is a small family-owned company located in Lubbock, Texas on the high plains centered on the "largest cotton patch in the world." They specialize in innovative moisture control technology that helps cotton growers throughout the world maximize their yields from the ginning process while reducing costs.
For more information, download the Samuel Jackson, Inc. product catalog, visit the Samuel Jackson, Inc. website or call 1-800-862-9966.