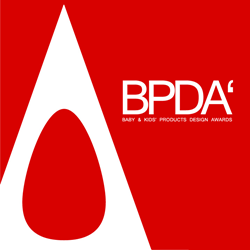 Best baby products will be awarded with the A' Design Prize.
Como, Italy (PRWEB) February 13, 2014
The A' International Baby Products Design Awards (BPDA) recognizes outstanding baby products which demonstrate exceptional product features, innovation, safety and aesthetic qualities. Entries are especially considered for their qualitative aspects that make them baby-friendly such as usage of non-toxic & soft materials, good ergonomics, implementation of safety precautions and ease of utilization.
The International Baby Products Design Competition is especially open to any type of baby products including but not limited to: Baby Apparel & Accessories, Baby & Toddler Toys, Baby Stationery, Bathing & Skin Care Products, Car Seats for Babies, Diapering Products, Feeding Products, Baby Gear, Gifts for Kids, Health & Baby Care Products, Nursery Products , Potty Training Products, Pregnancy and Maternity Products, Safety Products for Babies, Baby Strollers, Baby Furniture, Baby Clothing and Games for Babies.
Entries will be judged by a highly respected panel of international jurors; prominent designers, scholars and press members. The award jury will peer-review and blind vote on entries to ensure a fair evaluation. Entries must be submitted online at adesignaward.com by Friday 28, 2014. Results of the competition will be announced on April 15, 2014.
Winners of the International Baby Products Design Awards will be given the A' Design Prize which includes the design excellence certificate, award winner logo license, the award trophy, yearbook publication, invitation to the exhibition and award ceremony in Italy, translation of awarded product descriptions to 20+ languages, communication to thousands of publications as well as press release preparation and distribution service.
About the International Baby Products Design Awards
The International Baby Products Design Awards highlights innovative and high-quality baby products. The accolades serve as a strong incentive for designers and manufacturers worldwide to come up with better designs and products for babies. The Baby Products Design Competition especially spotlights playful and intelligent products that provide babies an opportunity for expression and creativity as they develop and practice high-order thinking skills. Learn more at http://www.whatisadesignaward.com.