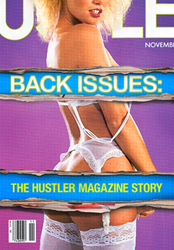 New York, NY (PRWEB) July 17, 2014
"BACK ISSUES" will launch in the United States through Video On Demand on July 15, 2014. Director and writer Michael Lee Nirenberg ("SALT," "THE WRESTLER,") and writer Flynn Hundhausen present an insider's perspective through the lens of Hustler's former Art and Creative Director, William Nirenberg, the director's father.
Back Issues chronicles Hustler's history through interviews with former employees, models, Larry Flynt, lawyers, and the magazine's art department. It also looks at the significant controversies Hustler faced and continues to face, including the consistent First Amendment and legal battles, the attempted assassination of Larry Flynt, and the company's changing ethos. As the notion of offensiveness and availability of pornography constantly changes, is Hustler still the champion of hardcore?
FilmBuff will exhibit the film on all leading On Demand platforms including: iTunes, Amazon Instant Video, Vudu, Google Play, XBOX Video, and Sony PlayStation.
To learn more about the film, please visit backissuesdocumentary.com. To order the film, please visit: http://bit.ly/1oVCXm8.
About FilmBuff
Founded in 2007, FilmBuff is the leading distributor of incomparable and curated digital entertainment that consistently informs, entertains and inspires. The Company draws upon its deep relationships within the film industry to design innovative digital strategies to supply original content to all on-demand outlets. Find FilmBuff content on all cable, satellite and telco services, game consoles, online retailers, wireless platforms, and hardware manufacturers worldwide. Connect with FilmBuff at http://www.FilmBuff.com and @filmbuff.
About Michael Lee Nirenberg
Growing up in an artistic family, Michael Lee Nirenberg's ascension into the film word seemed a natural progression. He began his art education in 1996 at the University of the Arts in Philadelphia, PA before transferring to PNCA in Portland, OR where he received his BFA in 2001. He has worked in the artistic department for Hollywood blockbusters including "SALT," "THE WRESTLER," and "DATE NIGHT." He has also worked on television hits including "GIRLS" and "BOARDWALK EMPIRE."