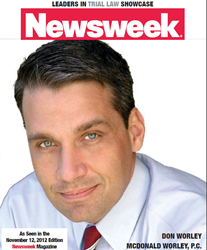 Getting The Best Legal Representation Matters - Winning Verdicts Means Justice For Clients
Houston, TX (PRWEB) July 17, 2013
Personal injury accidents usually don't come with forewarning, leaving most victims unprepared and unsure of how to proceed – that's why McDonaldWorley.com, a nationwide personal injury law firm, has compiled and released a list of 10 questions they believe will help victims find the best attorney for their case who is honest, ethical and focused on their well-being.
"When it comes to filing a personal injury lawsuit the quality of attorney a client has can go a long way in determining the verdict and settlement won," said Donald S. Worley, firm founder. "So with that in mind, we looked back over our numerous personal injury cases and compiled a list of the 10 best questions we believe clients can ask to find the most qualified attorney."
The list includes the following questions:
1. What areas of law does the attorney specialize in?
2. Has the attorney taken cases similar to this one in the past? How many? How did they turn out?
3. Will other attorneys be working on this case?
4. How long does the attorney think it will take to resolve this case?
5. Does the attorney work on a contingency basis?
6. Can anything be done to improve the chances of the case being successful?
7. How frequently does the attorney go to trial?
8. Has the attorney ever been censured or disciplined by any legal or ethics committees in the past? If so, why?
9. If client and attorney disagree on accepting a settlement will the attorney yield to the client's wishes?
10. Can the attorney provide references from past clients?
"Asking these simple questions will greatly increase the odds of an accident injury victim finding the most qualified attorney when compared to trying to select one based off of watching TV advertisements or by simply searching blindly in the Yellow Pages," added Mr. Worley.
Worley added that victims should keep in mind that when it comes to TV advertisements, many of the ads are actually placed by referral agencies, who simply forward a prospective client to one of their member firms in exchange for a large fee, rather than because the type of case or experience of the lawyer makes for a winning fit. Additionally he added that friends, doctors, online directories and the state bar are often much better sources for finding better attorneys.
To learn more about McDonald Worley Attorneys at Law or for a free evaluation of your personal injury case, please visit http://www.mcdonaldworley.com.
ABOUT MCDONALD WORLEY, P.C.:
Accepting clients nationally related to personal injury, wrongful death, malpractice, and medical negligence: if wronged or injured, U.S. residents can take advantage of the special offer and get a free legal case review now: Get Attorney Legal Review