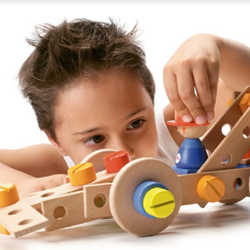 (PRWEB) January 16, 2014
Dorothy Carnahan is excited to announce the creation and launch of her new website venture, http://www.BeyondImaginationToys.com. The website offers a broad variety of children's toys. She knows that everyone has children or knows someone that has children and wanted to be able to provide her potential customers with toys that would please the parents and the children.
There are many high quality toys featured within the merchandise of BeyondImaginationToys.com. There are plenty of toys that enable children to learn what their parents are doing, such as toys that emulate tools or a play kitchen and other related things that can help children learn while playing. In the future, Dorothy intends to further expand the toy lines that are offered on the website. By periodically updating the website's merchandise, she hopes to encourage customers to keep coming back to the site to check out what new items have been added.
Customer service is something that is of the utmost importance to Dorothy regarding each and every transaction made on BeyondImaginationToys.com. Dorothy has had a lot of experience with servicing customers, as she was in insurance for forty years and is used to working with the public. She intends to bring the knowledge she has to the interactions she has with customers on her website to ensure that they have positive experiences on the website.
To complement the main website, Dorothy will also be launching a blog located at http://www.CreativeToyProductsBlog.com. The blog will feature topics related to the different types of toys and products that are prominently featured in the online store. Dorothy's primary goal with the blog is to help guide customers towards making informed decisions when purchasing products from her website.
About the Company:
BeyondImaginationToys.com -- a division of Homemade Gold, LLC -- is owned and operated by Web entrepreneur Dorothy Carnahan. The website is also affiliated with EasyShopWithDorothy.com.
****
Dorothy Carnahan
http://www.BeyondImaginationToys.com
(303) 990-9394
iePlexus, Inc.
http://www.iePlexus.com