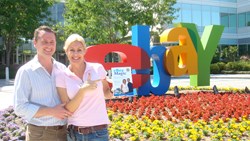 The promise of exponential growth makes today a highly critical time for business owners to become even more pro-active when it comes to acquiring the right tools and skills to ensure successful eBay ventures.
Sydney, Australia (PRWEB) February 19, 2014
Even as the nation's leaders assure that Australia is in a better economic position than most other countries today six years after the global financial crisis (http://www.theaustralian.com.au/business/latest/aust-economy-better-than-most-rba-boss/story-e6frg90f-1226785809351), leading business educators Bidding Buzz are reminding average business owners and income earners that this is not a reason to slack off, but rather a critical time to remain vigilant when it comes to securing – and growing – their financial standing.
Bidding Buzz founders Matt and Amanda Clarkson believe that the most important task for anyone preparing for the future today is reframing their mindset when it comes to wealth building. People should let go of the traditional notion of staying loyal to a full-time job as the only way to financial security because there are now other ways to achieve success, they say.
"The new economy requires people to retrain themselves from their being hands-on physical labourer-type jobs to tech-savvy entrepreneurs," Matt says. "Manufacturing in Australia is on its knees and even 60-year-old car companies are closing down. If everyday people don't re-skill themselves, they could become unemployed in the future and risk financial disaster."
For Matt and Amanda, the platform of choice and the one they also recommend to others when it comes to doing business online is eBay. Matt speaks from experience: from being a qualified carpenter, he launched his first Web-based venture through the online auction powerhouse and was able to achieve remarkable growth in just two years. In the short span of time that followed, he then became a leading online business educator when he co-founded the company Bidding Buzz, which is now dubbed as the number one eBay education company in the world.
Bidding Buzz reviews the past year as a period of astounding growth for eBay sellers, and predicts the coming year to offer even bigger and faster reach for entrepreneurs – but only if they are armed with the right mindset and strategy. "With the rate at how fast things change in the Internet marketplace, online retail giant eBay can seem like one of the oldies. But instead of being overtaken by its younger, shinier online shopping counterparts, eBay is expected to become even bigger in the coming quarters and years to come," Matt says.
Quoting details from a report published by Forbes.com (http://www.forbes.com/sites/greatspeculations/2013/12/26/ebay-the-year-2013-in-review/), he says that stock analysts credit the estimated rise in purchases from collectors who have put off shopping in the past recent years during the economic downturn. Its PayPal component, now the world's number one virtual payment option, is considered as eBay's main driver of success.
He added that this premise of exponential growth makes today a highly critical time for business owners to become even more pro-active when it comes to acquiring the right tools and skills to ensure successful eBay ventures.
"Business leaders are reporting that eBay will position itself strongly in 2014. Every ambitious entrepreneur will have surely heard about these predictions by now and will most likely be already gearing for more business engagement with eBay," he says. "This naturally creates a more saturated, highly competitive marketplace. Thus, it's important to equip yourself today or eat the dust of your competitors."
The good thing about eBay, the Bidding Buzz founders stress, is that people do not need to be tech-savvy or business school graduates to succeed in the online marketplace. The ordinary, everyday people turned successful business owners with the help of Bidding Buzz training prove the effectiveness of their program: As long as they have relevant, accurate and up-to-date knowledge to guide them through their decisions, basically anyone can start an eBay business from scratch, gain immediate profit, and enjoy the lifestyle they want.
For more information on education for successful eBay business building, readers can visit http://www.biddingbuzz.com.au/.