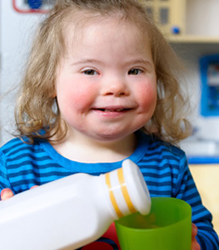 The additional funding from our clothing donation program will make a significant impact on the lives of our children, our teachers and the families we serve – we are so thankful for the support of the entire community.
Seattle, WA (PRWEB) March 27, 2014
Regional non-profit Northwest Center and KIRO 7 Cares are joining forces for The Big Blue Closet Clean Out™ in April 2014 and are asking for donations of clothing, shoes and accessories. Every donation benefits local people, helping Northwest Center provide services to children and adults with autism, Down syndrome and other special needs in Puget Sound.
There are three ways to donate: In person at Big Blue Truck Attended Donation Stations, by scheduling a pickup on their website or hosting a clothing drive. You can learn more about The Big Blue Closet Clean Out month and Northwest Center at nwcenter.org/closetcleanout.
Acceptable donations include: clothes of all styles and sizes and personal accessories including shoes, belts, purses, backpacks, hats, gloves, scarves and socks. Bedding, towels, linens, curtains and tablecloths are also needed.
Northwest Center is making it easier to get started on cleaning those closets with a Spring Cleaning Guide and The Big Blue Sunday kickoff event April 6th. The guide contains useful tips to get started on spring cleaning chores. Participants are rewarded with a chance to earn for local shopping sprees at longtime partner, Value Village. View full details at nwcenter.org/closetcontest.
Northwest Center offers essential support to people with developmental disabilities at all stages of life through early intervention, inclusive classrooms, employment services and jobs. When people of all abilities learn and work together, everyone benefits.