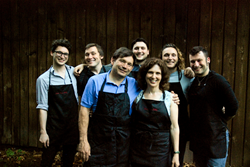 For every bottle sold, we continue to raise awareness and aid in finding a cure.
Philadelphia, PA (PRWEB) May 07, 2014
Bill's Best Organic BBQ Sauces is an organic & gluten-free barbecue sauce company that donates 10% of their profits to dementia research. The products originated from a recipe that a local family man, Bill Fehon, created. Starting out on the local farmer's market circuit, the sauce quickly gained popularity due to its distinct flavor and purpose. The company has set out to raise awareness and a cure for Frontotemporal Degeneration: The rare form of dementia that has left Bill incapable of making his beloved sauce.
In more than 100 stores nationwide and rapidly growing, the local small business has gone from selling 1,500 bottles their first year to a projected 15,000 for 2014. Just in the Philadelphia region alone, several Whole Foods Markets, Shop Rites and other chain grocery stores are now carrying both Bill's Best Original Barbecue Sauce and their Spicy variety. National distributers are now carrying Bill's Best products, making it easier for stores nationwide to purchase their sauce.
"Our family started this company to honor our father," says Jason Fehon, who manages the family business. Jason left his full-time position as a producer at WMMR, a local radio station in Philadelphia, to produce and sell the product. "Bill doesn't understand that we are making and selling his sauce, let alone know how much people enjoy it. For every bottle sold, we continue to raise awareness and aid in finding a cure." Jason will reunite with his former company at their upcoming MMR-B-Q event, which Bill's Best Organic BBQ Sauces is a sponsor for.
Our Company with a Cause
In the 1990's, Bill Fehon created an original barbecue sauce that he would bottle and give away to family and friends as gifts. His sauce quickly gained popularity and was in demand of nearly everyone in his hometown of Bryn Athyn, PA. In 2009, Bill was officially diagnosed with Frontotemporal Degeneration, which is a form of dementia.
To honor him, his family founded Bill's Best Organic BBQ Sauces in 2011. To date, Bill's Best Organic BBQ Sauces has two products: Bill's Best Original BBQ Sauce and Bill's Best Spicy BBQ Sauce. For each bottle that is sold, the company donates portion of the sales goes to supporting the Association for Frontotemporal Degeneration in hopes of finding a cure.