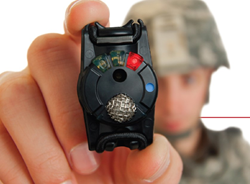 "The Blast Gauge System represents a significant advancement in preserving the neurocognitive health of our soldiers with regards to blast TBI."
Rochester, NY (PRWEB) June 26, 2014
Jeffrey Rogers has been recognized as a Science and Environmental Medal finalist for his efforts in the development of the Blast Gauge System while serving as Program Manager at the Defense Advanced Research Projects Agency (DARPA). The Samuel J. Heyman Service to America Medals "pay tribute to America's dedicated federal workforce, highlighting those who have made significant contributions to our country."
Rogers, who left DARPA in early 2014 to lead a new area at Google, was paramount in identifying the need for a sensor that could measure the primary source of blast exposure injury, blast overpressure. Research by a small team who soon would become BlackBox Biometrics®, Inc. led to the Blast Gauge System: a revolutionary sensor that has since been outfitted on U.S. Special Forces, all branches of the U.S. Military, and SWAT teams across the nation.
The Blast Gauge System provides the capability to capture complex data on an otherwise invisible threat by recording a Service member's exposure to blast overpressure and resulting accelerations. With the push of a button, the gauge emits a discreet visual cue, alerting unit medics and leadership when further evaluation is required. A micro-USB connection allows for detailed data to be downloaded and analyzed by medical personnel, guiding triage and treatment for damage that can result from these concussive forces.
This damage is called traumatic brain injury (TBI), and it's been coined the "Signature Wound" of today's modern wars. TBI from an explosive blast remains a significant problem for military personnel. Mild to moderate TBI may be difficult to detect immediately post event; cognitive or motor deficits may manifest weeks or months later. The wide variability in explosions and physical configurations during a blast, coupled with variability in human response to each blast, makes understanding blast TBI a significant challenge. Understanding this complex problem requires logging of exposure paired with long-term tracking of Soldier health to correlate blast exposure with injury. The Blast Gauge System is critical to building a robust understanding of blast-induced TBI and to enable better prediction of injury.
Injury from overpressure exposure can also occur in training settings, such as artillery operation. Trials using the Blast Gauge System showed that a Soldier is exposed to similar rates of overpressure in training as in theater. At the time of discovery, this was a new and unexpected finding. Data from these trials has since led to the incorporation of Blast Gauges into training operations and drills by the Military and SWAT teams.
"The Blast Gauge System represents a significant advancement in preserving the neurocognitive health of our soldiers with regards to blast TBI," says Jeffrey Rogers. "The contributions these gauges have made to the areas of research, training and delivery of medical care is noteworthy. It has truly enabled a new phase of discovery."
About BlackBox Biometrics, Inc.:
BlackBox Biometrics specializes in developing innovative technology that measures the unseen impact of concussive injuries, aiding in triage and treatment. The Blast Gauge System is a revolutionary advancement in explosive blast detection, enabling recognition of exposure and potential for traumatic brain injury (TBI) in the military and law enforcement. The system captures complex data associated with concussive events, providing medical personnel with digital information to better understand the event, ultimately leading to faster and more accurate treatment.