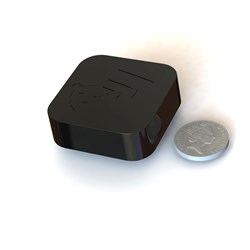 First 100 can get BluCub for just £25!
London, England (PRWEB UK) 20 January 2014
Mesh-Net founders, pioneers in wireless technology, have just launched their first ever consumer product - BluCub. BluCub is the latest 'internet of things' device to provide information for both humidity and temperature. This small, affordable gadget provides individuals with a new way to monitor their environment straight from their iOS device.
The free BluCub app provides automatic updates and allows users to set thresholds for the temperature and humidity levels in an instant. The display colours also change as an immediate visual indication. Gone are the days when users have to refer to instruction manuals for control settings or have to remember what the optimum levels are for their environment.
BluCub's dual indicator allows individuals to get a fuller understanding of the vital statistics of the environment they are monitoring. This device will quickly become an essential item in users' everyday lives with uses in wine cellars, artwork storage, baby's room, cigar humidors, greenhouses, indoors, storing timeless books, plant nurseries, restaurants, lens storage, musical instrument storage, office comfort, warehouses, education and even in server rooms. The uses for BluCub are endless.
"People tend to be more aware about temperature than humidity. However, humidity is just as important, if not more, in many situations," said Gurpal Bhogal, co-inventor of BluCub. "Insufficient moisture in the air can lead to a variety of problems including dry noses, sore throats, cracked itchy skin and breathing difficulty. Too much moisture can cause corrosion, mould, warping and discoloration of your valuables. BluCub gives you the ability to assess these risks very easily with your smartphone"
Using Bluetooth Smart technology in a unique way, many BluCubs can be used together at the same time. The app offers a streamlined user interface that takes care of it all. With a single replaceable small-cell battery, BluCub can operate for up to 3 years. The device is so small that it can be held in hand or placed around any home or office.
The product will retail at £49.99.
To celebrate this launch, BluCub is being offered for just £25 to the first 100 who support the Indiegogo campaign at http://igg.me/at/blucub starting 9 am GMT on January 20th 2014. Beyond that, there are other special offers available throughout the campaign.
For media inquiries regarding BluCub, individuals are encouraged to contact Gurpal Bhogal at + 44 843 557 0345.
BluCub Product Highlights:

Wireless Bluetooth Low Energy 4.0
Up to 50m (160 ft.) range depending on surrounding environment
3 Year Battery Life. And it's replaceable too!
Humidity Sensor measuring Relative Humidity (RH) between 0% and 100%
Temperature Sensor measuring between -20°C and +50°C
Dimensions – 50mm x 50mm x 20mm thin