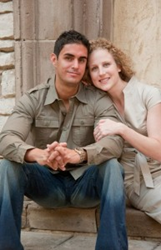 Kitchen organizing can be a daunting process, so be sure to give yourself time and don't try to tackle it all in the same day.
Lewisville, Texas (PRWEB) November 30, 2014
As most homeowners know, the kitchen is often the busiest and most used part of the house during the holiday season. As the central hub of the home, our kitchens have become the room that tends to gather the most clutter during the holidays, with a slew of projects, gifts and gadgets strewn about -- not to mention the hats, coats and other belongings of our visitors. It can add stress and take some of the fun out of holiday entertaining.
Luckily, for those of you who have experienced this domestic nightmare, there are plenty of easy DIY projects out there to help organize your kitchen just in time for the holidays, according to Cassandra Rodriguez, co-founder with her husband Paul of BriarHills Maids, a cleaning service serving homes in North Texas.
Rodriguez issued the following guidelines to help get you started:
1. Cut the clutter. Eliminating countertop and drawer clutter is the best way to keep your kitchen more organized. Avoid keeping every appliance out on the countertop, and instead use countertop space for essential, everyday items such as coffeemakers and toasters. Many of us tend to keep fruit out on the counter in baskets, but this cuts down on counter space that you could otherwise use for cooking space. A more decorative idea that is also very practical is to attach fruit baskets to a wall. Also, rather than keeping your main cooking utensils in a container on the counter or in drawers, The Created Home came up with the great idea of hanging mason jars by curtain hooks on any wall space you may have in your kitchen. While The Created Home uses the mason jars for flowers, we certainly think basic utensils such as spatulas and wooden spoons would have a perfect home here.
2. Put the pantry first. Well-organized pantries make the cooking process less frustrating, mainly because the necessary products are so much easier to find. Now we all know that pantries can become a huge mess simply because, with so much space, canned goods usually get pushed back and we lose track of what we actually have in stock. An easy way to combat this is to use a wire magazine rack to stack cans. This also gives your pantry a more organized and polished look. Another great and inexpensive pantry idea is to purchase a door hanging jewelry organizer to store goods such as packaged seasonings, protein bars and snacks. Be sure to store the snacks in the lower pouches to ensure easy access for children.
3. Keep pots and pans close at hand. Giving yourself better access to your pots and pans allows you to avoid the noisy clatter of trying to find the right one. Simply by attaching hooks to the top of a cabinet shelf, your pots and pans will have a more organized home. This however, does require a little bit more effort but is definitely worth the time spent. This tool is also something you may consider getting done by a custom cabinet maker. You can store the corresponding lids in the shelf above, and store baking sheets in the space below the hanging pots and pans.
"Kitchen organization is made simple by these few steps," said Rodriguez. "It can be a daunting process so be sure to give yourself some time and don't try to tackle it all in the same day. Here's to the end of cabinets brimming with kitchen tools and the backaches you're sure to acquire while digging through stacks of pans. Happy organizing!"