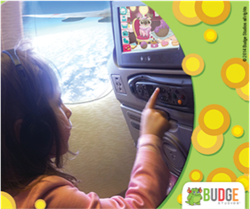 We're thrilled to offer some of our best titles to airlines around the globe through our partnership with GEE - Noemie Dupuy, Co-CEO and Co-Founder Budge Studios
APEX/IFSA EXPO- Anaheim, CA (PRWEB) September 17, 2014
Budge Studios™, the world's leading 'freemium' kids app company, announces a new partnership with Global Eagle Entertainment(Nasdaq:ENT), a worldwide provider of content, connectivity and digital media solutions to airlines and the market's leading provider of inflight games, to license popular children's games to airlines.
With over 45 million downloads to date, Budge Studios' collection of award-winning apps are revolutionizing the children's digital gaming world.
This agreement with Global Eagle Entertainment (GEE) marks Budge Studios' entry into the IFE market as one of the first kids app companies to bring popular children's entertainment properties to airline screens, including recognizable characters such as Caillou®, Strawberry Shortcake™, Chuggington™ and Miss Hollywood™.
This is especially big news for the beloved Miss Hollywood pet series, Budge Studios' first original intellectual property app. The app, featuring Miss Hollywood, a cute Chihuahua and her fashionable furry friends, has been gaining popularity at an incredible rate with over 1M downloads since its launch.
"As a mother of two young children, I know how much games come in handy during family trips," says Noemie Dupuy, Co-CEO and Co-Founder at Budge Studios. "We're thrilled to offer some of our best titles to airlines around the globe through our partnership with GEE, while helping families achieve a fun travel experience with no more 'are we there yet' moments!"
"We're excited to bring Budge Studios' original and highly popular gaming titles to the skies," added Alexis Steinman, Senior Vice President, Software & Development at GEE. "These renowned children's games will provide even more compelling and relevant content to our extensive market-leading inflight gaming portfolio.
About Budge Studios
Budge Studios™ leads the industry by providing entertaining apps for kids through innovation and creativity. We develop and publish apps for smartphones and tablets played by millions of children worldwide featuring high profile properties such as Crayola®, Strawberry Shortcake™, Care Bears™, Caillou®, Chuggington™ and more! For more information, visit http://www.budgestudios.com or connect with us on Facebook, Twitter and LinkedIn.
About Global Eagle Entertainment
Global Eagle Entertainment Inc. is a worldwide provider of media content, technology, and connectivity solutions to the travel industry. Through the industry's most comprehensive product and services platform, Global Eagle Entertainment provides airlines with a wide range of inflight solutions. These include Wi-Fi, movies, television, music, interactive software, as well as portable IFE solutions, content management services, e-commerce solutions and original content development. Serving over 150 airlines worldwide, Global Eagle Entertainment delivers exceptional quality and value to its customers to help them achieve their passenger experience objectives. The company's headquarters are located in Los Angeles, California, with offices and teams located in North America, Asia, the Middle East, Europe, Africa, Oceania and South America. Find out more at http://www.globaleagleent.com