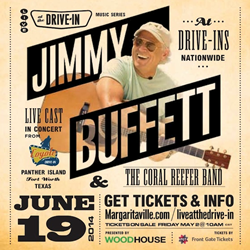 Unique Family Fun - a Shenandoah Valley Bucket List Experience
Stephens City, Virginia (PRWEB) May 21, 2014
On June 19th, Jimmy and the Coral Reefer Band will be at The Coyote Drive-In Theatre in Ft. Worth, TX. The concert is being broadcast LIVE and EXCLUSIVELY via DIRECTV to over 80 drive-in theater audiences. This could be a world-record event in the number of people seeing his concert all at one time! Buffett will perform a 2 hour concert --with interactive technology that promises to be unique.
"I am extremely excited about this concert! Jimmy had a representative approach many drive-in owners way back in February about doing a unique concert JUST FOR DRIVE-IN fans!! - and I hope that this is just the first concert that I will be able to bring to our patrons," said Jim Kopp, manager of Family Drive In Theater in Winchester, Virginia. The Family Drive In Theater is the only operating drive in theater in the Washington metropolitan area. "I am pleased to be part of this historic event," said Kopp.
In the tradition of Buffett concerts, The Family Drive-in Theater will offer concert fans a family style event which will include live parrots, a Pirates and Parrots costume contest for kids; limbo contests, a live band performing before Buffett. There will also be volleyball, a water slide, corn whole tournaments, virgin margaritas, and Key West style foods. Live broadcasts will be from 92.5 WINC and B105 radio. Gates will open at 6:30 pm with the concert set to begin at 9 :50 pm.
There are 360 drive in theaters left in the United States. "Over 171 have not made the transition of going from 35MM to a digital format allowing them to compete with the indoor conventional theaters," said Kopp. "Our fans made it possible for the Family Drive In Theater to go digital last year. Ten percent of this concert will go toward helping these other drive in's to make the digital transition which is over a $100,000 investment each."
Tickets for this concert are: $18 per person, with a minimum 2 ticket purchase for those who wish to park their vehicles at the theatre. Walk-in tickets are also available. Tickets may be purchased in advance at the theatre or via: http://www.Margaritaville.com/liveatthedrive-in website. Concert fans will need to select "Virginia" from the state listing on Margaritaville.com and then select Family Drive-In Theatre.
Voted by Go Blue Ridge Travel 'a must experience childhood experience', come out and celebrate one of America's favorite roadside attractions and re-live the 50's, 60's and 70's and experience how much fun it is to see a movie "under the stars" at one of America's remaining drive-in theaters!
The Family Drive-In Theater, 5890 Valley Pike (US Rt 11) in Stephens City is Virginia's largest drive-in, offering two screens, a playground for the children, classic car speakers on lighted poles, family affordable concessions and the latest Hollywood films for their patrons.
Today, 366 drive-in theaters remain on America's roadsides, still ushering in family fun, a chance to see the latest Hollywood blockbuster on the largest movie screens available, and offering magical memories that will last a life time.
For more information on the concert visit the theater's website: http://www.thefamilydriveintheatre.com.
About GoBlueRidgeTravel.com
In 2011, GoBlueRidgeTravel.com (GoBRT), a division of Encore Event Partners was launched to be a travel getaway guide for trip planning in Virginia, West Virginia, and Maryland. GoBRT is the only Tri-State regional website showcasing the activities, events, and accommodations in the Blue Ridge Mountains, The Piedmont, and Shenandoah Valley. With a ten year relationship of marketing the region to brides for their wedding destinations, GoBRT is now reaching out to families branding the trademark 'GoBRT's Kids Bucket List' showcasing the experiences tots to teens should have prior to turning eighteen in the valley. In July 2013, Go Blue Ridge Travel with eight Virginia partners received a Marketing Leveraging Grant from Virginia Tourism to develop a mobi website, Shenandoah Valley Kids Trail, with the target market being families. Expanding to Natural Bridge in 2014, Go Blue Ridge Travel's goal is to brand this 160 mile radius as a travel and wedding destination both nationally and internationally.
Contact: Nancy Craun Founder and President GoBlueRidgeTravel.com Phone: 540.533.1853 Email: info(at)GoBlueRidgeTravel(dot)com