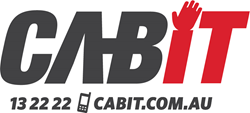 We've got the cars. We've got the critical mass. We've got the infrastructure. We've got the technology. And we own the entire value chain.
Melbourne, Australia (PRWEB) July 02, 2014
The Taxi Services Commission is cracking down — cracking down on taxi companies, drivers, and even apps that appear to have breached the Victorian Transport Act 1983. But while some taxi services prepare to pay hefty fines for reportedly getting unqualified drivers and not having the appropriate licence, CABiT recently reported that it is able to go about its business because it has gone through the rigorous accreditation process and vows that its training system assures the taxi-riding public of efficiency and safety.
The Melbourne taxi service shares, "Our operators are highly organised with many layers, including a Registered Training Organisation that meets the needs of people wanting to enter the industry as drivers. This is an example of the commitment to providing customers, drivers and employees with the best workplace and service possible as well as working for the greater good of the taxi industry."
CABiT offers an innovative and highly efficient booking service through its app, which can be downloaded from the Apple Store, Google Play, and Windows Store, through its website, and through its phone lines. Melbourne's newest taxi provider not only also happens to own the fleet of Hybrid vehicles its drivers use, but it also owns the depots as well as the driving schools, which all mean that CABiT has complete control over how it delivers taxi services to Melbourne residents and tourists.
CABiT CEO, Harry Katsiabanis, remarks in an interview with 2GB on what makes CABiT ahead of other services: "We've got the cars. We've got the critical mass. We've got the infrastructure. We've got the technology. And we own the entire value chain. So if you go back to the old co-op days, where service was paramount — we have a similar model that is co-owned by a group of four taxi operators."
Anyone looking to hire a car or drive a taxi, Melbourne operators and professional drivers know, is legally obliged to go through the proper process, and in Victoria, that means applying for the appropriate accreditation. The accreditation process is designed to ensure that drivers for cabs and other car hire services possess sufficient knowledge and training to get behind the wheel and drive passengers around the city.
The Taxi Service Commission recently busted several drivers for driving passengers around for a fee, without having gone through the accreditation process and appropriate training. While there have been no reports, so far, of fatal accidents stemming from unaccredited taxi drivers, and with the recent spate of non-traditional taxi services becoming sought-after for their low cost, CABiT believes that implementing regulation will prevent the worst-case scenario. This is not just for the benefit of the passengers but for other motorists as well.
"The Melbourne taxi industry is undergoing an extensive change," the taxi services provider begins to say, "and CABiT, Melbourne's newest taxi company, is at the forefront of industry improvement… The simple fact is that every city needs an efficient taxi system to support the public transport system."
CABiT's drivers have had the appropriate training to ensure that passengers get to their destination without incident, and that they experience a pleasant ride in clean and efficient taxis. In addition to better travels in yellow cabs, passengers also figure out how much they have to pay before every trip through CABiT's fare estimator.
CABiT remarks about the future of its services, "The yellow cab is famous. What is for sure is that the yellow cab will remain iconic and CABiT will ensure that training, customer service, and technology keep advancing."
For more details on CABiT's services and information on booking Melbourne cabs, explore its official website today.