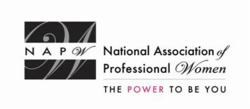 The MB advantage assists circulation for a loved one, even while they're asleep.
Garden City, NY (PRWEB) February 03, 2014
NAPW honors Marium Murad, M.D., as a 2013/2014 Professional Woman of the Year for leadership in healthcare with this prestigious distinction. As the largest, most-recognized organization of women in the country, spanning virtually every industry and profession, the National Association of Professional Women is a powerfully vibrant networking community with over 600,000 members and nearly 400 Local Chapters.
"The MB advantage assists circulation for a loved one, even while they're asleep," says Dr. Murad, the developer of a natural heart and circulation wellness program called Movement is Blessed (MB Program).
Dr. Murad's insatiable thirst for knowledge motivated her to learn how medicine was practiced by many different cultures. When her mother suddenly became ill, Dr. Murad utilized an all-natural approach to care for her with excellent results. Her program is based on sound scientific principles related to the heart and circulation and aims to de-stress the heart by using a series of specific finger and toe exercises. After her mother's successful recovery, a friend's mother, who was suffering from heart-related problems tried Dr. Murad's MB Program and the results were impressive. The program is particularly beneficial for seniors who are prone to heart-related illnesses.
Today, Dr. Murad is making her wellness program available for everybody via her website http://movementisblessed.com. Gift a loved one the heart- healthy instructional DVD.
About NAPW
NAPW provides an exclusive, highly advanced networking forum to successful women executives, professionals and entrepreneurs where they can aspire, connect, learn and achieve. Through innovative resources, unique tools and progressive benefits, professional women interact, exchange ideas, advance their knowledge and empower each other.