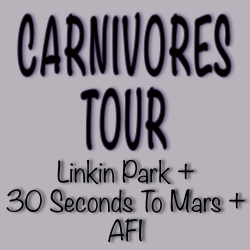 QueenBeeTickets.com is now providing Carnivores Tour tickets for sale at reduced prices to the general public.
Germantown, WI (PRWEB) March 14, 2014
QueenBeeTickets.com offers concertgoers the opportunity to find Carnivores Tour tickets for sale at discounted prices. The big event will soon be coming to towns in the United States and Canada.
Beginning on August 8, the tour hits West Palm Beach, Florida. Fans with tickets will be treated to great music from Linkin Park, 30 Seconds to Mars, and AFI. The tour wraps up on September 19 in Concord, California. Concert buffs in many North American cities can attend a live event this year and enjoy the music that will be offered.
Canadian music enthusiasts in specific cities can find Carnivores tour tickets for sale for a show in their region. These cities are Winnipeg, Toronto, and Montreal. The tour will also take the talented musicians to a number of locations within the United States that include Tampa, Florida; Bristow, Virginia; Mansfield, Massachusetts; Tinley Park, Illinois; Dallas, Texas; Englewood, Colorado; and Los Angeles, California.
Linkin Park and 30 Seconds to Mars will be co-headlining acts in the upcoming tour, and AFI will do the honors of making a special guest appearance. Rock music fans are certain to want tickets for this unique summer event.
QueenBeeTickets.com can provide reasonable prices to customers who are seeking Carnivores Tour tickets for sale. The secure website can also offer premium seats for all upcoming live events in the exciting tour.
Click Here to browse discount Carnivores tour tickets at QueenBeeTickets.com.
Live Customer Support
Order By Phone Toll Free
7:00am-1:00am EST
(855) 859-4033
support(at)queenbeetickets(dot)com