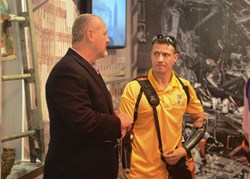 Manchester, NH (PRWEB) January 28, 2014
Carpet One Floor & Home members recently experienced the country's only 9/11 Never Forget Mobile Exhibit while attending their Winter Convention last week in Phoenix, AZ. The exhibit is comprised of historic artifacts donated by firehouses throughout New York City and was created by the Stephen Siller Tunnel to Towers Foundation.
Carpet One Floor & Home along with Mohawk recently announced their new involvement with Building for America's Bravest, a program in partnership between the Gary Sinise Foundation and Stephen Siller Tunnel to Towers Foundation. The program provides Smart Homes for severely injured service members with each home custom designed to meet their needs and give them a place where they can be at home. Carpet One Floor & Home and Mohawk will provide all flooring materials and installation for forty-six Smart Homes scheduled to be built by the Building for America's Bravest program over the next three years - a contribution totaling $2.3 million.
The Stephen Siller Tunnel to Towers Foundation, which created the mobile exhibit in remembrance of Stephen Siller, a NYC firefighter who bravely sacrificed his life to save others on 9/11, honors military and first responders who continue to make the supreme sacrifice of life and limb for our country.
During the convention, Carpet One Floor & Home members had the opportunity to meet representatives from both the Gary Sinise Foundation and Stephen Siller Tunnel to Towers Foundation as well as injured veterans who will benefit from the Building For America's Bravest program.
Additionally, there were various benefit performances to raise the much needed funds, including Daniel Rodríguez who earned the title of "The Singing Policeman" during his time with the New York City Police Department due to his role as one of the department's designated National Anthem singers. He received nationwide notoriety after the September 11th attacks with his rendition of "God Bless America", which he sang at memorial events and on television.
Headlining the convention and closing out the weekend, Sinise and his Lt. Dan Band took to the stage with their renditions of contemporary pop and classic rock hits.
About Carpet One Floor & Home
Carpet One Floor & Home (http://www.CarpetOne.com) is North America's leading floor covering retailer and the largest division of CCA Global Partners, with nearly 1,000 independently owned and operated locations in the United States, Canada, Australia, and New Zealand. For a quarter of a century, CCA Global Partners, a privately held cooperative, has partnered with entrepreneurial businesspeople to create a cooperative powerhouse unmatched in the marketplace. With the strength of 13 independent business brands and more than 2,700 locations, CCA Global Partners is well positioned to positively impact the success of independent businesses like Carpet One Floor & Home. For more information on CCA Global Partners, go to http://www.ccaglobal.com.
About Mohawk
Mohawk Industries is a leading global flooring manufacturer that creates products to enhance residential and commercial spaces around the world. Mohawk's vertically integrated manufacturing and distribution processes provide competitive advantages in the production of carpet, rugs, ceramic tile, laminate, hardwood, stone, and vinyl flooring. Their industry-leading innovation has yielded products and technologies that differentiate their brands in the marketplace and satisfy all remodeling and new construction requirements. Their brands are among the most recognized in the industry and included American Olean, Bigelow, Daltile, Durkan, Karastan, Lees, Marazzi, Mohawk, Pergo, Unilin and Quick-Stip. During the past decade, Mohawk has transformed its business from an American carpet manufacturer into the world's largest flooring company with operations in Australia, Brazil, Canada, China, Europe, India, Malaysia, Mexico, Russia and the United States.
About the Stephen Siller Tunnel to Towers Foundation
The Stephen Siller Tunnel to Towers Foundation, named in honor of FDNY 9/11 fallen Firefighter Stephen Siller, and best known for its annual Tunnel to Towers Run at Ground Zero in New York City, is committed to building specially-adapted "Smart Homes" for the most seriously wounded U.S. service personnel through its Building for America's Bravest program. For more information, go to http://www.Tunnel2Towers.org.
About the Gary Sinise Foundation
Built upon its founder's life-long principals and a long standing commitment to be a citizen in action, the Gary Sinise Foundation serves the nation by honoring its defenders, veterans, first responders, their families and those in need by creating and supporting unique programs designed to entertain, educate, inspire, strengthen and build communities. These include its R.I.S.E. Outreach (Restoring Independence and Supporting Empowerment), whose flagship initiative is a custom Smart Home building project for severely wounded veterans. Each home is customized to ease their daily challenges and help restore independence with features like retractable cook tops, cabinets and shelving, elevators and more, all accessible via an iPad. Other programs include Relief & Resiliency Outreach, Invincible Spirit Festivals, Serving Heroes and Arts & Entertainment Outreach. The Foundation has also partnered with GE on their Get Skills to Work program to help veterans translate military skills into advanced manufacturing jobs while empowering employers with tools to recruit, onboard and mentor veterans. The Gary Sinise Foundation is a 501(c)(3) organization. For more information, please visit http://www.garysinisefoundation.org.