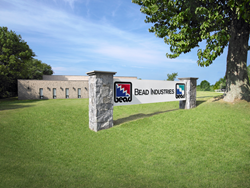 New Haven, CT (PRWEB) April 29, 2014
Bead Industries, Inc., global manufacturer of electronic contact pins for the telecom, automotive, and connector industries and supplier of Bead Chain® and McGuire commercial plumbing products, celebrates its 100th year in business this year.
A centennial celebration, scheduled for May 8th, 3-6 p.m., will feature an open house and factory tour of its Milford-based facility. The Open House will be open to anyone - Bead employees' families and friends, vendors, other Connecticut manufacturers and local dignitaries and will include factory tours.
There will also be a screening of Bead's Centennial video, which documents the history of Bead and is retold by family members and past and present employees. The video was produced by American View Productions.
At the Centennial Celebration, Bead executives plan to announce a special scholarship program in honor of the centennial. This scholarship is designed to encourage students to pursue careers in manufacturing and related technical and engineering fields.
Founded in 1914 in Bridgeport, Connecticut, Bead Industries developed and manufactured Bead Chain for electric light pulls. Using the same innovative metal-working process, it fabricated custom contact pins for the electronics market starting in the mid-1920s, building on designs and patents including the first enclosed electrical switch. McGuire Mfg Co., one of Bead's loyal customers, was acquired in 1972 and markets high quality commercial plumbing fixture trim line.
Today, Bead manufactures electronic interconnect components for domestic and international customers, including many Fortune 500 companies, despite recent economic pressure in the U.S. manufacturing sector. In fact, growth continues with Bead's dedication to lean process and its latest achievements include the launch of an online 3D CAD catalog, a CCAT technology grant and the 2013 SBA Family-Owned Business of the Year Award.
To attend the event, RSVP to centennial (at) beadindustries (dot) com. Bead Industries is located at 11 Cascade Blvd, Milford, CT 06460.