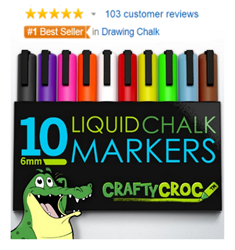 "My family loves these! I was pleasantly surprised at the quality of them. The colors are vibrant and the liquid chalk loads into the tip and it makes it easy to use…" by Marcos and Jill
Wilmington, DE (PRWEB) September 25, 2014
September 24, 2014 – CraftyCroc's flagship product, 10 pack of Liquid Chalk Markers, has been awarded the distinction of #1 Best Seller in the Drawing Chalk category on Amazon.com. CrafyCroc prides itself in its high quality, innovative products. In particular, their 10 pack of bright neon color liquid chalk markers is no exception!
"We are thrilled with the #1 Best Seller recognition. We love that we can bring a little fun and a little color to people's worlds." Says Kimberly Mitchell, Media Representative of CraftyCroc.
There are many features of the CraftyCroc chalk markers that sets it apart from the competition, which is why there is no surprise it has reached the best seller status.
Some of the fun and innovative features include:

Bright colors – Much more fun and vibrant than regular boring chalk.
Reversible tip – Create masterpieces in either a fine tip or a bold tip
Easy to use – Simple to use with quick and easy clean up.
Non porous surfaces – Great for use on chalkboard stickers, chalkboard contact paper, glass, tile, plastic, metal, whiteboards and all non-porous surfaces.
CraftyCroc also has a stellar rating with their customers with over 99 five star reviews.
"I loved that the tips were reversible, so I could use different style tips with the same colors" by R. Petersen
"My family loves these! I was pleasantly surprised at the quality of them. The colors are vibrant and the liquid chalk loads into the tip and it makes it easy to use…" by Marcos and Jill
"We LOVE these! We use them for many things! Most notably to mark names on drinking glasses! Leave reminder notes on the mirror in the bathroom!" by Trose
CraftyCroc can be found on Amazon.com and they are currently offering a $6 off coupon for new customers to try out these fun and versatile chalk markers. Click Here To Redeem or visit - http://iazrs.com/nbfgikIsSd - and use coupon code INOKQ6OJ on the checkout screen.
CraftyCroc is proud to provide a range of premium quality art and craft products, ideal for both home and commercial use. They can be found on Amazon.com