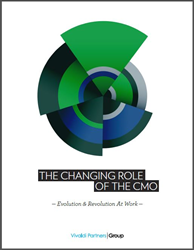 New York, NY (PRWEB) June 10, 2014
"The Changing Role of the CMO" report has been released today by Vivaldi Partners Group, a growth and brand strategy consulting firm that includes a design and experience agency known as Fifth Season. Vivaldi Partners Group conducted in-depth interviews with CMOs and senior marketing executives across three continents to get their perspectives on the transformation in the field of marketing. The resulting research uncovered five common areas of change for most CMOs.
The report was created from conversations and interviews with CMOs across a variety of industries, including companies such as Bitburger, GE, Lonza, Allianz, UBS, Vanguard Health Systems, Mashable and others. While the CMOs did explain that some fundamentals stayed constant, they all agreed that there are changes impacting their roles. The five areas of change were:

Strategy
Customer
Operations
Organization
Technology
"The CMOs agreed that the changes in their roles fell into one of these five categories. For example, in the category of strategy, forward-looking CMOs realize that marketing is about leveraging data and technology to improve people's lives versus just managing perceptions," explained Roland Bernhard, Senior Partner at Vivaldi Partners Group and one of the lead authors of the report. "Also, while the CMOs we interviewed reiterated that there were still constants in their roles, the changing digital landscape and the rise of the Always-On Consumer have definitely impacted today's marketing."
During the conversations with the CMOs, it was apparent that three particular skill sets would be key to managing these five areas of change. The report found those three capabilities to be commercial instinct, collaborative mindset and analytical acumen.
"It's almost a requirement that today's CMO has collaborative, analytical and commercial capabilities to succeed in today's real-time, digital world," said Anne Olderog, Partner at Vivaldi Partners Group and co-author of the report.
For a full download of the "The Changing Role of the CMO" report or more information on Vivaldi Partners Group, please visit: http://www.vivaldipartners.com.
About Vivaldi Partners Group
Vivaldi Partners Group (http://www.vivaldipartners.com) is a global consulting firm that unlocks innovation and growth opportunities for brands and businesses in a digitally connected world. Vivaldi Partners Group uses its expertise in strategy, innovation, marketing, and organization to identify new demand-based opportunities, build strong brands, create and realize engaging experiences, and lead change through the development of people. Vivaldi Partners Group comprises of Vivaldi Partners, Fifth Season, a digital, design and technology agency, and E-Edge.