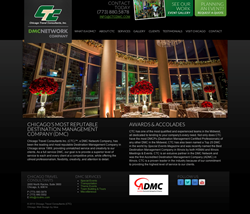 I was incredibly impressed with the finished product and would recommend Idea's team to anybody.
Chicago, IL (PRWEB) April 19, 2014
Chicago Travel Consultants, Inc.(CTC), a DMC Network Company, has been a leader in the Chicago destination management market since 1989. CTC provides unmatched service and creativity to their clients and leads the charge with a stellar reputation and the most DMCPs (Destination Management Certified Professionals) of any other DMC in the Midwest. CTC manages events from large galas in prime locations to intimate dinners at private homes or the most celebrated restaurants. Utilizing their vast network of resources, CTC will ensure a seamless experience for your guests during their event or stay in Chicago.
CTC had previously done all website work in-house, but with the changing demands of their own business and the new skills required for current website design, CTC decided to hire Idea Marketing to rebuild their site and continue making updates to the site themselves. The website was custom built to accommodate their preferred method of content management.
The company grew a lot and the new website represented that new larger company look. The development of the site is built with a strong SEO platform and in a competitive industry like destination management, Idea recognized the importance of this.
The website contains a lot of content, an interactive photo gallery, lists of their clients, awards and DMC affiliates as well as some helpful information about visiting Chicago. Chris Baker, owner of CTC said this about working with Idea, "Wearing many hats in my company, the website project often took a back seat and Darren was very patient with me throughout the process. The number of changes I requested were enormous and Darren and his team were always available and quick to make my changes. I was incredibly impressed with the finished product and would recommend Idea's team to anybody. They were patient and very fair in the process and incredibly skilled at what they do."
Idea Marketing Group, located just west of Chicago, offers web design, web development, and marketing services to clients nationwide. With additional specialties in branding, graphic design and marketing services. Idea draws from experienced, in-house talent paired with unmatched customer service at award-winning levels.