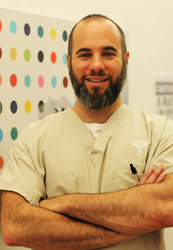 I am always excited to offer anything that makes my patients' lives easier because I value their time and people always appreciate convenience and excellent service
New York, NY (PRWEB) November 25, 2014
Dr. Steven Shoshany, regarded as one of NYC's top chiropractors, is pleased to announce the addition of Apple Pay to his chiropractic practice. This is another "ahead of the curve" move in the chiropractic and medical field, as it allows patients to obtain and pay for healthcare services using their iPhone devices while protecting their personal financial information. Whether patients want to avoid the many hassles of paying through insurance companies, or just want to be able to use easy, and secure transaction options, they can now have those options available in Manhattan.
Apple Pay was released to the market this week and has been regarded by technology experts as "the most secure payment platform on the planet" due to its built-in security features that never reveal the user's actual payment information, but transmit payments using a "token" credit or debit card number, which is never repeated or stored. Apple Pay adds an extra layer of security to payment transactions and helps protect users' personal information while being a convenient way of paying for services without having to carry credit cards or cash.
Dr. Shoshany has always been known for staying abreast of the latest developments in technology in order to offer his patients the most advanced technologies in every facet of their healthcare experience at his practice. "I am always excited to offer anything that makes my patients' lives easier because I value their time and people always appreciate convenience and excellent service," says Dr. Shoshany of this latest innovation in the office. Additionally, Dr. Shoshany was an early adopter of several high-tech patient services, including ZocDoc, an online platform to research, review, and book medical appointments, and Bitcoin, a mobile payment platform that allows users to transfer decentralized currency funds to businesses and individuals. It's best attribute is said to be its foundation of privacy, and Dr. Shoshany is excited to be able to offer he options of not only unparalleled security but also privacy to his patients.
Dr. Shoshany recently integrated 3D printing in to his practice through providing the option of custom made, 3D printed custom orthotics from a leader in the custom made 3D printing field, Sols. Dr Shoshany was also one of the first NYC chiropractors to utilize and popularize advanced non-surgical recovery and rehabilitation methods such as computer assisted spinal decompression, cold laser therapy, and Kinesio taping. He has been practicing chiropractor in NYC for 15 years.
Apple Pay is available to all iPhone 6 users and is accepted by Dr. Shoshany for payment of services at his practice, as well as private home or office visits. Many of Dr. Shoshany's high-profile patients, both in NYC and California, opt for one-on-one home treatments for maximum privacy and convenience. Dr. Shoshany also performs corporate visits and looks forward to offering companies seeking to provide on-site employee care an even higher level of convenience.
For additional information on Dr. Shoshany's chiropractic and physical rehabilitation services, now available through Apple Pay, please visit his website, where appointments can be booked. For more details about Apple Pay and its many convenient applications, you may visit http://www.apple.com/apple-pay.
ABOUT DR. STEVEN SHOSHANY
Regarded as one of Manhattan's top chiropractors, Dr. Steven Shoshany is an internationally-recognized pioneering innovator in the field of spinal decompression, being one of the first doctors to offer the revolutionary non-surgical treatment in New York City. A graduate of Life University's class of 1996, Dr. Shoshany is certified in Active Release Techniques (ART) and has been successfully practicing in the downtown Manhattan area since 1999. For more information on Dr. Shoshany, please visit http://www.drshoshany.com. Or interact with him through social media, via his Google Plus Page, Dr. Steven Shoshany Chiropractor.