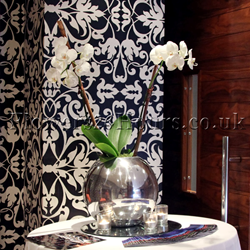 (PRWEB UK) 24 June 2014
London florist Flowers24Hours has designed an extensive, truly inspiring selection of flower arrangements. And living in a city that stands out for its history, literature, arts and culture, Londoners are certainly not lacking in inspirational resource. But as flower delivery in London from Flowers24Hours demonstrates, particularly with their easy, same day delivery, sometimes it's best to go back to nature.
UK flower delivery shop Flowers24Hours.co.uk uses the season, the occasion and an unmatched passion for the perfect blossom to guide their cultivation of flowers and elegant floral design. Adorable flowerpots and stylish vases are recent top summer sellers for London flower delivery, especially for those customers looking to order gifts online. The Blue Cotswold is a striking hydrangea bouquet that sits tucked inside a country kitchen jug—the perfect summer decoration for countertops and windowsills at home. Its business counterpart, the Siesta, is a cactus arriving in a cream ceramic container also great for gift delivery. The Siesta will add some spice and a dash of summer heat to any office, desk or working environment.
When anyone wants to send flowers to London the options can be overwhelming: deciding on the flower delivery service, which type of flower or bouquet, and if that particular arrangement is appropriate for a friend, partner, or professional relationship. Yet the intention is always there; the gift of flowers is a special one, no matter who is the recipient. Flowers24Hours is unlike the typical flower delivery company in that many of their floral arrangements use a balanced mixture of blossoms, blending different shades and contrasts, blossom sizes and petal shapes. With the option for flower type substitutions, to buy gifts online, and prompt, friendly customer service, the company makes having flowers delivered in London not just easy but a pleasure.
Flowers24Hours has recently come out with a stunning new line of flower baskets and bouquets, designed and arranged by their online florist for flower delivery in London. These arrangements are as versatile as they are seasonal.
The Solaris combines contrasts in colour and texture in a basket laden with fully bloomed sunflowers and red roses. Tall and open to the sun, no flower evinces complete joy and the summer season as much as the sunflower. The Solaris has been described as, "Artistic, beautiful, stylish—a piece of contemporary floral art," and is only one such veritable floral treasures found with the flower delivery company Flowers24Hours.
Meanwhile, Aida combines sunflowers and white lilies into a paper wrapped, energising bouquet; the effect on anyone is pure exuberance. Another London gem is the Shocking Pink! Small and sweet, these pink roses framed in cordeline leaves make the perfect trio and ideal show of anyone's affection.
Flowers delivery London same day
Flowers24Hours does not just pride itself on fantastic floral design and arrangements, but has also demonstrated a commitment to being London's top same day flower delivery company, with delivery that is convenient and reliable. In a city where it is difficult to be anything but busy, and it is easy to be distracted, flowers are a small joy with big effects, and this florist is glad to be a part of it.