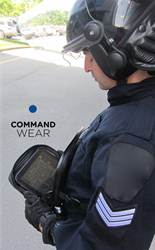 CommandWear, delivers real-time, simple-to-use, mobile situational awareness tools to first responders who need to keep their eyes, ears and hands on the job at all times.
Vancouver, BC (PRWEB) October 01, 2014
CommandWear Systems Inc. is pleased to announce the availability of its latest release of the CommandWear situational awareness platform, built for public safety agencies that need better and more cost-effective ways to support front-line emergency personnel's responsiveness, decision making and safety.
CommandWear is a simple-to-use, mobile, scalable and affordable platform that integrates smartphones, wearable devices, tablets, networks and applications to enhance situational awareness for first responders who need to keep their eyes, ears and hands on the job at all times.
Unlike complex, proprietary and expensive situational awareness systems, CommandWear is a completely open, cross-platform solution designed to work with a public safety agency's existing technologies (e.g. networks, computers, tablets and smartphones).
CommandWear:

Was designed by first responders for first responders and field-tested by major police forces and other public safety agencies;
Presents an intuitive touch-based user interface to responders that is so easy to use, it requires no training;
Integrates seamlessly with the latest wearable devices; and,
Is highly scalable and very affordable for agencies of any size.
"I have seen first-hand how important it is to share information between those on the front lines and those that support them," said Kevin Wallinger, managing director of Global Risk Reduction Inc. "Situational awareness is complicated enough without first responders having to worry about how to use complicated technologies when they must be 'heads up and hands free'. Simple and effective communications in a complex environment is crucial and CommandWear is leading the way to solve one of the biggest challenges our first responders face".
According to a 2014 public safety industry study*, "Public safety agencies everywhere are embracing the trend toward smart public safety, which requires capturing, analyzing and sharing information intelligently. For intelligence-led public safety to be effective, it's critical to get the right information to the right person at the right time – so he or she can make the right decision."
Founder and CEO of CommandWear, Michael Morrow couldn't agree more, "Watching commanders being forced to make 'seat of the pants' decisions without knowing where their teams are, and responders dispatching runners to deliver messages is just not acceptable. We are changing that.
It's not just about helping responders protect the public; it's also about protecting responders. We envision CommandWear's Communicator App on every first responder smartphone to ensure they're not unknowingly moving into dangerous areas; and if they must enter them, to ensure they are immediately notified of the risks so they can make decisions based on intelligent data rather than guesswork."
CommandWear is sold through a tiered pricing model that ends up costing just pennies a day for public safety agencies.
To learn more about CommandWear's situational awareness platform, or how you can trial CommandWear with your first responders, contact them at +1 (778) 328-3884 or info(at)commandwear(dot)com.
About the CommandWear Situational Awareness Platform
CommandWear is an open platform that comprises three components designed to improve the effectiveness and safety of first responders so they may better protect the public in emergency situations.
Commander App: An easy-to-use situational awareness dashboard that gives commanders a comprehensive view of situations so they can quickly assess needs and risks and make intelligent decisions to better manage and protect first responders, to maximize their effectiveness in the field.
Communicator App: Available on Android and BlackBerry smartphones (and soon iPhone), the Communicator App provides a local view of the situation for each responder and allows them to focus on the job while staying in touch with Command at all times. The app also tethers smartphones with wearables, such as smart watches and other body-worn devices, to deliver video and audio data back to the command centre in real-time.
CommandWear Hub: A highly scalable, open and secure server that can be deployed in cloud or enterprise configurations, the Hub stores all location, status and communication information for playback, analysis and review.
About CommandWear
Vancouver-based software company, CommandWear, delivers real-time, simple-to-use, mobile situational awareness tools to first responders who need to keep their eyes, ears and hands on the job at all times.
Founded in 2013 by Michael Morrow, a 25 year pioneer in public safety technology, CommandWear's mission is to solve the industry's most critical issue – the lack of tools to support decision making at the last tactical mile.
Field-tested by leading police forces and emergency medical responders, CommandWear provides public safety agencies of any size, better and more affordable ways to support intelligence-led management of front-line emergency personnel to improve decision making, effectiveness and safety.
Follow us on our website and on Facebook.com/CommandWear, Twitter @CommandWear, and YouTube.
*2014 Industry Study Source: "Public Safety 2019", by Motorola Solutions