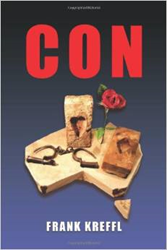 AUSTRALIA (PRWEB) September 08, 2014
This powerful epic of one-hundred-sixty thousand men, women and children convicted to penal life "down under" 200 years ago, is Australia's blood-and-bones foundation. Frank Kreffl's "Con" (whose first edition was published in 1979) is the story of the making of Australia as a nation written from a different, completely unbiased view.
Australia never stopped being the "lucky country". People from all over the world still emigrate in large numbers to this land blessed with space and opportunities. Kreffl divulges how the untarnished, peaceful continent was dragged into a world destined forever to remain in conflict. The story is told through fictional characters and cameo performances of real people. Together they reveal the evolvement of the unique Australian character.
Kreffl realistically captures the warts-and-all transition of an ancient virgin island continent into the modern, already ageing world. "Con" is the rank and real story of Australia, one that David Brown, producer of The Sound of Music and Jaws, who read the first edition, said would one day be turned into an epic film or films. Indeed, Con has all the watermarks of "cinema verité" on an unflinching, largely unsophisticated scale. This is a multi-faceted adventure that takes us on a journey through penal life abominated by a sacrosanct royally protected injustice. The hardships of the convicts culminated in the nascent strengths of the Australians of today, and their recognition of its original inhabitants. The first 750 British convicts landed on the barren shores of Botany Bay, New South Wales in 1788. The last few disembarked in Fremantle, Western Australia in 1868. In the intervening 80 years over 160,000 convicted men, women and children were shipped to the last and furthermost colony of the British Empire. They were English, Irish, Scottish, American and Canadian POWs and others. Life in the colony was inhumanely harsh: convicts who arrived late for work, bad-mouthed the boss, laughed or sang while working in chains or asked for a light to smoke their pipes were mercilessly flogged.
The story revolves in great part around Conrad Stairs (Con), a 12 year old boy-convict and follows his life, and that of several other characters. It is also the tale of the legendary Captain Charles Loveday who distinguished himself at Waterloo in the last battle of the Napoleonic Wars. With his wife Adele, Charles sailed to Australia to become the superintendent of the largest and most dangerous agricultural (concentration) camp in New South Wales, the infamous Toongabbie.
While some details might seem excessively cruel, Kreffl successfully argues the point that the English lords needed a subject population to fill up the empire's largest and most vulnerable colony. Hence the incredible brutality "needed" to keep the people in line.
A savage uprising and its even more savage repression climaxes this historical saga which a critic described as moving along "at a chain-rattling pace". The novel is filled with sudden twists and turns, several romances at all levels of society, and gunfights between bushrangers and government troops. The saga concludes with a mind-blowing surprise finale.
For more information on this book, interested parties can log on to http://www.Xlibris.com.au.
About the Author
Frank Kreffl was a freelance journalist. He has written television documentaries and several books ("The Man in the Mountain," "The Security Officer in Australia," "The Fools of April" and an earlier edition of "Con" as a novelette.) In 1970, while passing the show-window of a smithy, he noticed a set of leg-irons. He went inside and asked permission to wear them. As he walked around the shop dragging the heavy chains, the rusty iron hoops bit cruelly into his flesh. Hence he decided to investigate the obfuscated colonial era (largely omitted from classroom curricular!). Kreffl has visited penitentiaries, including Norfolk Island and the vanished site of Toongabbie, and is still collecting the evidence of a denied past. He is working on the trilogy "Con Vic Ted" covering the evolution of modern Australia.
Con * by Frank Kreffl
Trade Paperback; $29.99; 1,036 pages; 978-1-4836-8009-5
Trade Hardback; $49.99; 1,036 pages; 978-1-4836-8010-1
e-book; $3.99; 978-1-4836-8011-8
Available at Amazon and Barnes & Noble
To request a complimentary paperback review copy, contact the publisher at 1-800-455-039. To purchase copies of the book for resale, please fax Xlibris at (02) 8088 6078 or call 1-800-455-039. Xlibris books can be purchased at Xlibris bookstore. For more information, contact Xlibris at 1-800-455-039 or on the web at Xlibris.com.au.