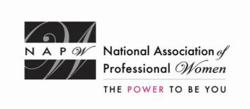 My strengths are in writing and in research. I am able to gather together many small parts into a unique whole.
Garden City, NY (PRWEB) April 08, 2014
NAPW honors Sharon L. Outlaw as a 2014 Professional Woman of the Year. She is being recognized with this prestigious distinction for her leadership in energy efficient construction. As the largest, most-recognized organization of women in the country, spanning virtually every industry and profession, the National Association of Professional Women is a powerfully vibrant networking community with over 600,000 members and nearly 400 Local Chapters.
"My strengths are in writing and in research," says Mrs. Outlaw. "I am able to gather together many small parts into a unique whole."
As president of Onvico, Mrs. Outlaw uses those skills and her outstanding business acumen to successfully manage the energy efficient construction and consulting company. From writing, researching and managing government grants to overseeing the company's finances to meeting with potential clients, Mrs. Outlaw is instrumental in managing Onvico's day-to-day operations.
Mrs. Outlaw's father was an army officer and a civil engineer. She inherited his appreciation for buildings, and for building "smart and green." While he was alive, they worked on building projects together and noticed a lack of green contracting companies. Mrs. Outlaw's son is also an engineering student and took courses for LEEDs certification as well as the OSHA course. "I suppose you can say my father and son inspired me to create Onvico, Inc.," she says.
Also the daughter of a librarian, Mrs. Outlaw uses her natural talent with the written word outside of the office. Her third book, Silver Wings, will soon be published and she is busy finishing up her latest book. "I have another book that will be completed by mid-March that focuses on the cadets of the Virginia Military Institute during the Civil War," she says. "I have also written two plays that were produced locally." With most of her formative years spent living in Europe, Mrs. Outlaw developed a love of languages and history. She is currently teaching herself Italian in preparation for another book, this one a love story set in Italy.
About NAPW
NAPW provides an exclusive, highly advanced networking forum to successful women executives, professionals and entrepreneurs where they can aspire, connect, learn and achieve. Through innovative resources, unique tools and progressive benefits, professional women interact, exchange ideas, advance their knowledge and empower each other.