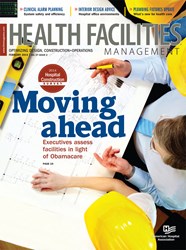 The survey shows how hospital executives are considering changes to existing facilities and campuses to meet changing needs.
Chicago, IL (PRWEB) February 06, 2014
As hospitals continue to move care delivery to the most appropriate and cost-effective settings, health care executives are re-evaluating what kinds of facilities they need to provide the optimum care for their communities.
That's one key finding from the 2014 Hospital Construction Survey, conducted jointly by Health Facilities Management magazine and the American Society for Healthcare Engineering. The survey will be published in the February issue of HFM as the magazine's cover story.
Among the survey's findings:

51 percent of respondents said they are considering the ACA in senior leadership discussions about potential changes needed to existing facilities or campus designs — up from 34 percent in the 2013 survey.
One-third of respondents said they are now or will be in the next three years building new, replacement or renovations of emergency departments.
22 percent of respondents are considering or are developing outpatient facilities in neighborhood settings as a result of the ACA.
48 percent of organizations are financing their construction projects via existing cash reserves.
As ASHE Executive Director Dale Woodin notes in the report, "Today you can't talk about construction without talking about health reform. The fact that more than half [of hospitals and health care facilities] are including the ACA in construction planning shows they are thinking about this proactively. This has huge implications on facility planning."
Sustainability is also an important factor for hospital executives considering construction projects, according to the survey. Approximately 65 percent of hospitals and health systems are specifying green or environmentally friendly materials in all or some of their current construction or renovation projects. Bob Kehoe, HFM's executive editor and associate publisher, says the survey shows how hospital executives are considering changes to existing facilities and campuses to meet changing needs.
"The changing health care landscape is emphasizing community health, which means that many organizations are looking at ways to bring care closer to where patients live and in the most appropriate and cost-efficient setting," Kehoe says. "Hospitals and health systems recognize that care needs to be delivered in a variety of settings, with an expanded focus on outpatient care delivery, and the Hospital Construction Survey shows that health care executives are taking a proactive approach to building and renovating facilities to make care even more accessible to the communities they serve."
About Health Forum
Health Forum is a strategic business enterprise of the American Hospital Association, creatively partnering to develop and deliver essential information and innovative services to help health care leaders achieve organizational performance excellence and sustainability.
About the American Hospital Association
The AHA is a nonprofit association of health care provider organizations and individuals that are committed to the improvement of health in their communities. The AHA is the national advocate for its members, which includes nearly 5,000 member hospitals, health systems and other health care organizations, and 43,000 individual members. Founded in 1898, the AHA provides education for health care leaders and is a source of information on health care issues and trends.
-30-