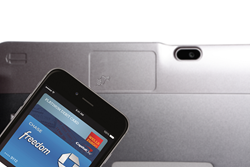 Costbucket, a complete business solution in a box boasts web-based POS, CRM, accounting ERP and activity management. The software that runs on an SaaS business model costs users only $9 per month.
New York City, New York (PRWEB) October 22, 2014
Coinciding with the launch of Apple Pay in the US, Apple's attempt to streamline the retail and online purchasing experience, Costbucket, a complete business solution in a box that boasts a web-based POS, CRM, accounting ERP and activity management has launched their campaign on Indiegogo to raise funds for their 10-inch POS Tablet. The software that runs on an SaaS business model costs users only $9 per month. Apart from internal credit card readers that accept chip and PIN (EMV), swipe and sign (MSR), contactless (NFC) and on screen key entry payments, Costbucket POS Tablet also uses a 3G/4G SIM card to support payment processing on the go. This affordable mobile and desktop POS device enables SMBs to transact Apple Pay cost effectively in North America, the UK and the Caribbean.
Apple has more than 220,000 retail locations, major payment networks like Visa, MasterCard and American Express and more than 500 banks on board that will accept payment via Apple Pay on the new iPhones. Additionally, October 2015 signals the end of age-old magnetic strip based swipe and sign credit cards in the US to a more secure chip and PIN card system. Through their POS Tablet, Costbucket is empowering small and medium-sized businesses in North America, the UK and the Caribbean to accept PIN and chip based as well as NFC payments via Apple Pay and other NFC capable devices, without them having to upgrade by investing in additional expensive equipment, training and costly payment services for a meager shot at attracting more customers.
Elaborating on Costbucket's USP, Founder and CEO, Adrian McCalla said, "Unconnected systems hinder business owners from seeing the 'big picture' of their operation. Competing products mostly provide each of our features as separate stand-alone products with very little synergy between the other important functions. Our POS is 100% connected in real time to inventory management, customers and accounting and our ERP is ideal for retail, service, non-profit and distribution businesses."

Costbucket allows users to create sales orders for each business location. Integrated with both customer and inventory management, it also has the ability to process multiple currencies depending on a customer's base currency of choice. POS transactions automatically deduct inventory from each location based on the location assigned to each sales person.
Costbucket's CRM enables users to manage and maintain customers by category and type, set sales prices and discounts for each category and run detailed reports on customer performance.
With Costbucket's ERP, purchase order levels and restrictions can be set for each employee to place orders from suppliers. Fully integrated with inventory and supplier management along with the ability to run reports on orders, users can order inventory by suppliers, track and manage inventory by location, allocate inventory between locations, maintain supplier types and manage supplier price lists for each product. They can also track budget cost in comparison to actual cost and monitor cost over runs.
Costbucket's activity management system supports adding and assigning tasks, checking milestones and enables the owner or manager to stay on top of the workforce and each business activity.
Costbucket also includes a dashboard that offers rational, contribution and break-even analysis along with KPIs to help businesses gain a deeper insight into their operational performance.
Costbucket also offers real-time detailed reporting on the operational performance of the business through multiple reports and analytics.
Speaking about Costbucket's full business in a box approach, Founder and CFO, Clayton Bennett said, "We wanted to eliminate the need to acquire multiple software as well as automate and integrate several time consuming and potentially expensive processes. By making timely and valuable industry specific information available as standard reports, Costbucket not only connects the dots, but also saves you the cost of consulting a financial analyst. Not having to manually key daily POS data into your accounting package also saves time and money."
More information about Costbucket and their POS tablet is available here.