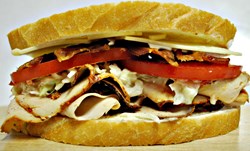 Hidden Gems - The Country and General Stores of the Shenandoah Valley
Winchester, VA (PRWEB) December 31, 2013
Country and General Stores were the staple of the retail industry in years passed but today most have closed unable to keep up with the big retail national stores. Go Blue Ridge Travel has found two gems alive and well in the Shenandoah Valley of Virginia and West Virginia.
For some towns, like Shepherdstown, West Virginia, it is the appearance of O'Hurley's General Store on the curve of Route 230 before the railroad tracks which announces to a visitor one's arrival to historic Shepherdstown.
A stop at O'Hurley's General Store will take one back to one's childhood experiencing many goods from the past. "It's a store where candy and nails are sold by the pound, toys for sale might look a lot like toys one played with at grandmother's house, and conversation is as important as the sale," said Nancy Craun, founder of Go Blue Ridge Travel. "Handling only the best wares at a much cheaper price than the city to include barrels, buckets, notions, dry goods, cutlery, fire tools, dolls, jeans, enamel ware, dinner bells and much more, it is the character of the store that draws the visitor in."
However, it is the music sessions that have made O'Hurley's a West Virginia 'must visit stop'.
On any Thursday night throughout the year, musicians arrive at O'Hurley's and start tuning up. There will be a dozen or more musicians playing the dulcimer, banjo, guitar, fiddle, Celtic harp, flute and a variety of other instruments. Everyone who shows up with an instrument participates.
What makes the jam sessions even more interesting is that visitors fill the rocking chairs, and listen in, with everything free and open to those entering the large room. There is no such thing as a reservation, as observers are seated first come, first served. Often there is standing room only. According to Jay Hurley, owner, "The jam sessions just started up 30 years ago and have been going on ever since. We have not missed even one Thursday night in all that time." The jams start around 7:30 p.m. and go strong until about 11 p.m.
Another hidden treasure is Throx Country Store in Winchester, Virginia. Located on what use to be a heavily traveled road linking Clarke County with Frederick County, Throx Country Store has grown with the times. Known by the locals for its deli sandwiches and the Best BBQ in Winchester, Throx Country Store also has the largest collection of craft beers in the northern Shenandoah Valley.
"It is the millennium generation that has put Craft Beer on the map," said Jeremy Throckmorton, co-owner of Throx Country Store. "The experience of drinking a great beer and combining it with a culinary event describes the craft beer enthusiast. In the making of a great craft beer, there is more opportunity to add other flavorings as compared to wine making where you only have the grapes to work with. Take 'Founders Breakfast Stout', the coffee's lovers consummate beer brewed with an abundance of flake oats, bitter and imported chocolates, and Sumatra and Kona coffee or Southern Tier Creme Brûlee Stout whose name says everything about the beer."
One will also find at least ten craft beers on draft to fill one's growler. In the words of several patrons of Throx Country Store "What a find! Tons of selections for "Hopheads" "Belgians" "Stouts" "Porters" you name it. If you can't find a beer to your liking/style at this place then it is because you didn't look long enough or ask Jeremy for help." i.e. beeradvocate.com.
The Throckmorton's purchased the Country Store in 2009 and have expanded its merchandise to include unique gifts like hand dipped battery operated candles, beauty soaps and organic soap products with an emphasis on health and wellness. Throx Country Store also has the largest collection of old-time candies. Remember the milk in the bottle. It is there as well but it is advised to pre-order to guarantee selection.
Throx Country Store can help with any social event or just picking up dinner that night. Watching one of Throx's You Tube Food Videos says everything about the quality of the product. One can order deli sandwich platters, hams, turkeys, oysters shucked and in the shell as well as sides like old fashioned green beans, corn pudding with goat cheese, baked sauerkraut, and Throx infamous Chicken Pot Pie. Take out the GPS and take a road trip to Throx this weekend.
About GoBlueRidgeTravel.com
Founded in 2011, GoBlueRidgeTravel.com (GoBRT), a division of Encore Event Partners is the only regional website showcasing the activities, events, and accommodations in the Blue Ridge Mountains and northern Shenandoah Valley. With a ten year relationship of marketing the region to brides for their wedding destinations, GoBRT is now reaching out to families branding the trademark 'GoBRT's Kids Bucket List' showcasing the experiences tots to teens should have prior to turning eighteen in the valley. Covering Virginia and West Virginia, Go Blue Ridge Travel's goal is to brand this 100 mile radius as a travel and wedding destination both nationally and internationally.
Contact: Nancy Craun Founder and President GoBlueRidgeTravel.com Phone: 540.533.1853 Email: info(at)GoBlueRidgeTravel(dot)com.