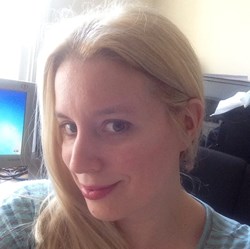 My goal with couponsdowork.com is to help people get out of debt, be smarter with their money and to find the best deals
(PRWEB) January 07, 2014
Can you live on $20 dollars a week in groceries?
This woman can. She feeds a family of four (two kids, ages 3 and 6 , her husband and herself) on only $20 dollars a week and she has a monthly budget of $1,200.00 that she has to work with. How does she do it?
Simple. She coupons. She does what many other people are doing in this day and age. Her name is Rachel, and she runs a couponing/budgeting website called couponsdowork.com.
Rachel explains why she created her website, "When I created couponsdowork.com, it started out as a blog, writing my thoughts out loud on how I budgeted on the $1,200.00 a month that I was getting from my husband. He told me that money only goes towards groceries, kids clothes, and gas. That was it. And because I am a stay-at-home mom, I would get bored and shop often – racking up my credit card bills and be in denial that I was in debt."
"It wasn't until I saw a re-run marathon of 'TLC's Extreme Couponing' over the holidays in 2012. I remember watching it and thinking... 'if those women can spend 100's of dollars in groceries and pay pennies after they coupon, I can do it too and blog about it to help others do the same thing.' My goal with couponsdowork.com is to help people get out of debt, be smarter with their money and to find the best deals."
She updates her site hourly and posts deals labeled as "freebies, cheapies and moneymakers," found at grocery and retail stores. Rachel posts the best deals she can find.
Rachel announced that she saved "14K just by couponing and budgeting" in an article dated September 6th, 2013; she wrote, "The key to saving money is only buy what you need, and get a small stock of it when it goes on sale."
She uses her stockpile. Her family eats healthy. She shops once a week, and only buys things that she needs for the family (only if there is a coupon and only if the item goes on sale). She then puts the remaining money into a 'rainy day' fund savings account and lets it grow each month.
Rachel created her website two years ago to help others. Rachel's success proves that coupons do work! To learn more, visit http://www.couponsdowork.com.
About couponsdowork.com :
couponsdowork.com, founded in 2012 is a free, informational website. Couponsdowork.com is ran by one person who informs the public on how to save money and coupon. Couponsdowork.com is a website that posts the latest deals, budget friendly recipes, frugal tips, budgeting tips, coupon deals and more.
Contact:
couponsdowork
rachel(at)couponsdowork(dot)com
http://www.couponsdowork.com