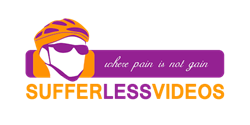 We have turned our attention to building a library of video segments that can all be downloaded and mixed and matched to create the "perfect" ride for whomever is training in indoor cycles or bikes on trainers. Coach Gino
Pittsurgh, PA (PRWEB) December 09, 2014
The first company to promote virtual cycling DVDs for Spinning® or Indoor Cycling classes is one of the last to offer their cycling videos in downloadable format. What seemed like dragging their digital feet now looks like a very calculated strategy by Global Ride Productions to build a library of video segments that function like building blocks for an entirely new corporate spin off called SufferLess Videos. The website aims to help anyone who trains indoors to become their own virtual cycling video producer.
The segments vary in length from 3 minutes to 23 minutes and they are categorized according to their primary and secondary type of terrain. The terrain a rider will experience falls into one of 4 categories; Flat Roads, Steady Climbs, Rolling Hills, and Steep Climbs. In addition, there are a variety of Warm Up & Cool Down segments to help each budding producer create a professional looking virtual cycling ride.
"We thought that streaming the virtual rides would be the next trend and so we created an entire website for that only to find out that downloadable videos seems to be the intermediate step before streaming catches on. So, our streaming service will still live on, but we have turned our attention to building a library of video segments that can all be downloaded and mixed and matched to create the "perfect" ride for whomever is training in indoor cycles or bikes on trainers," said Coach Gino, director and producer of all video segments for SufferLess Videos.
Indoor cyclists or Spinning® enthusiasts will be able to select segments that range in cost from $.99 for Warm Up or Cool Down segments to as much as $19 for a full 60 minute DVD now in digital format. The average price of a video segment seems to be right around $4.00. In addition, each segment is actually a zip file of both the highest definition version available, as well as a smaller version that may be preferred on smartphones or just to save space on a laptop or other devices used for playing the ride.
While SufferLess Videos may not be the first to offer digital versions of their cycling workouts, they may be the first to offer virtual cycling segments that contain riders and dashboards of workout data. What's that saying again… "self service is the new premium service?" Well, it certainly applies here.