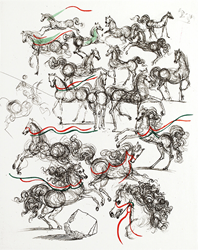 San Antonio, Texas (PRWEB) May 31, 2014
What:
The Russell Collection is thrilled to announce The Spanish Masters featuring The Salvador Dali Argillet Collection, Picasso, and Miro, showcasing works by the notorious Surrealist Salvador Dali (1904-1989) and other Spanish masters including Joan Miro and Pablo Picasso in San Antonio, Texas, August 1-10, 2014. Original works on paper and tapestries, as well as hand-colored etchings will be available for sale in this unique showing of art.
Part of the exhibit, The Argillet Collection, brings more than 100 pieces of art by Salvador Dali; each piece has been authenticated and signed by Dali and have never before left the collection. The keeper of this esteemed assemblage, Christine Argillet, will be in San Antonio for a reception on August 9 and 10, which is free and open to the public. She is the daughter of the prominent art collector and publisher, Pierre Argillet. His friendship and working relationship with Dali spanned more than five decades. As a child, Christine and her father spent many fascinating years interacting with the eccentric artist. The wildly imaginative Dali was legendary for his quirky antics and sometimes provocative images.
When:
Exhibit runs August 1-10, 2014. Personal appearance and reception with Christine Argillet from 6-9 p.m. on Saturday, August 9, and from 1-4 p.m. on Sunday, August 10.
Gallery hours: Monday-Saturday 10 a.m. – 9 p.m., and Sunday from 12-6.
Where:
Russell Collection Fine Art in San Antonio, Texas
The Shops at La Cantera, 15900 La Cantera Parkway, San Antonio (located next to Barnes & Noble)
RSVP Requested: 866-900-6699 or info(at)russell-collection(dot)com; http://www.russell-collection.com
Who:
Dali's name is synonymous with the Surrealist movement, a group that viewed the subconscious as a wellspring of the imagination. This remarkable circle of artists, writers, filmmakers, and theorists attempted to fuse the conscious reality with the unconscious dream state. This synthesis aimed to strip ordinary objects of their normal meanings. Putting the mundane back together in new ways forced the viewer to consider their deeper, more psychological significance.
Pierre Argillet and Salvador Dali met in 1934 and maintained a lifelong working relationship and friendship until the artist's death in 1989. Argillet would suggest subjects for Dali to illustrate, then oversee and sell a limited-edition printing from the plates. The publisher led Dali in producing plates for the Hippies, Greek Mythology, poems by Apollinaire, and Goethe's "Faust." Dali also completed pieces for the "Venus in Fur" by Sacher Masoch, and poems by Ronsard.
Christine Argillet, who spent summer vacations with Dali and his wife Gala, remembers his mischievous pranks. "One day, when I was eight years old, my father and I were waiting for Dali in his studio. Out of the corner of my eye, I saw something moving. It appeared to be a floating ashtray. Then, I realized Dali had attached the ashtray to the back of a tortoise, and it was slowly crawling along."
Watching Dali create was fascinating to young Argillet. She recounts a particularly vivid memory of the artist's constant experimentation. "One day, he found a dead octopus that had washed up on the beach. He immersed the creature in acid and pressed it directly on a copper plate." Later, he elaborated on this image to create his striking "Medusa." "Even though I couldn't understand all the artistic implications as a child," explains Argillet, "I could recognize that spirit of creativity. It was an education for all my life in terms of freedom."
Argillet recalled Dali's hijinks involving his antenna-like moustache. He would pick mysterious herbs from the hillside by his home in Spain, then mix them with his grooming cologne. To the young girl's amazement, by applying the potion to his moustache, the hairs would begin to wave back and forth. To this day, Argillet still doesn't know if the trick was real or a chemical reaction. "With Dali," said Christine, "everything was strange and possible. He was working magic all the time."
Media Contact: Darlene Fiske, darlene(at)thefiskegroup(dot)com or 512-331-7755