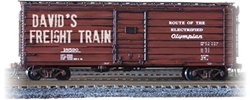 (PRWEB) February 21, 2014
David Coghlan is proud to announce the creation and launch of his new website venture, http://www.DavidsFreightTrain.com. The website offers many different model train products with a particular focus to those that are in N-scale. Coghlan was inspired to start his website because he saw dealer prices for these items on the rise. Higher costs meant that many newcomers were discouraged from beginning the hobby. Coghlan has been a railroad modeler for 55 years, ever since his father introduced him to the hobby as a child. He wanted to help other people get started in the hobby by providing them with more affordable products and information. "It is loads of fun and a fantastic way to escape reality," Coghlan explained.
There are many excellent model railroad products featured within the merchandise of DavidsFreightTrain.com. The website carries items including TCS DCC decoders, Intermountain Railway products, precision hobby tools, LokSound Select decoders, Sylvan scale models and micro trains, ESU Command Control Systems, and many more excellent products. In the future, Coghlan is planning to bring in laser etched buildings and precision models, such as scale boats. He plans to keep the website closely limited to N-scale with special order Z-scale products as well.
Sharing his knowledge and love of the model train hobby, by providing the best products and information at DavidsFreightTrain.com is of utmost importance to Coghlan. He wants to help people get started in the hobby by providing the very best products at great prices. He wants to make sure that people have access to free information about how to use these products and enjoy the hobby.
To complement the main website, Coghlan is also launching a blog located at http://www.DavidsCrazyTrainBlog.com. The blog will cover the types of decoders that are available to railroad modelers. It will provide information on how to program these systems and the types of accessories that go with each type of system. The blog will be an opportunity for Coghlan to share his extensive knowledge and get others excited about the hobby.
About the Company:
DavidsFreightTrain.com, a division of David's Crazy Train Inc., LLC, is owned and operated by Web entrepreneur David Coghlan.
****
David Coghlan
http://www.DavidsFreightTrain.com
(905) 684-3668
iePlexus Inc.
http://www.iePlexus.com