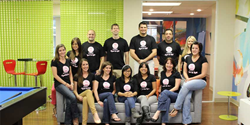 Deliver Media's culture of mutual respect and collaboration enables us to enjoy all of our professional achievements together, and this award is shared by everyone in the office. -Sean Johnson, CEO Deliver Media
Tampa,FL (PRWEB) May 08, 2014
Deliver Media, a full-service marketing agency was named the 2014 Best Place to Work Award in the "Nearly Big" category by the Tampa Bay Business Journal on April 24, 2014.
Deliver Media offers a wide variety of opportunities to foster a unique and dynamic work environment. In addition to ongoing open collaboration between departments, the Deliver Media team's working relationships benefit from company events such as weekly basketball games, community involvement, on- and off-site "fun days," celebratory recognition of company achievement, and networking events. Deliver Media also offers a rich internship program that supplies in-depth, hands-on experience for up and coming local college students pursuing the field of marketing and business.
Sixty companies were recognized and honored at the Tampa Bay Business Journal's yearly event, which was held on April 24 at the A La Carte Event Pavillion in Tampa. Winners were determined through an online survey taken by the company's employees to measure and manage employee engagement, loyalty and retention. This year, Deliver Media ranked the highest in the "Nearly Big" category with a total score of 98.06, just .04 shy of the overall winning score.
"We are excited and honored to have been named one of the Best Places to work in Tampa Bay," said Deliver Media CEO Sean Johnson. "Deliver Media's culture of mutual respect and collaboration enables us to enjoy all of our professional achievements together, and this award is shared by everyone in the office. Our team of hard-working, talented and enthusiastic people is what makes the Deliver Media office a success."
Hundreds of companies from across the Bay Area are surveyed annually by the Tampa Bay Business Journal to determine the "Best Places to Work in Tampa Bay." The employee survey conducted by Quantum Workplace, measures ten key engagement factors such as manager effectiveness, teamwork, trust in senior leadership, co-workers, benefits and overall job satisfaction. The responses from each survey question are collected and analyzed in order to generate an overall score. The total scores determined the top companies and final rankings of the chosen companies according to size: Nearly Big (10-25 employees), Big (26-50 employees), Bigger (51-100 employees) and Biggest (100+ employees).
Deliver Media is profiled in a special section in the April 25, 2014 edition of the Tampa Bay Business Journal, Volume 34, Number 18 or at http://www.bizjournals.com/tampabay/print-edition/2014/04/25/best-places-to-work-2014-deliver-media.html.
About Deliver Media:
http://www.delivermedia.com - Deliver Media is a Tampa-based agency providing cutting edge integrated marketing services. They provide full-service marketing and advertising services from targeted postcard marketing and direct mail campaigns to fully-functional website development. Deliver Media recently launched Deliver Digital, a sister company providing expertise in internet marketing, pay-per-click advertising, search engine optimization, social media management, internet presence management, video marketing, and content creation.
Sean Johnson, Deliver Media's CEO, has led Deliver Media (previously Southeast Print Programs) since 2001. Deliver Media and Deliver Digital clients in the U.S. and Canada include Domino's Pizza, Fantastic Sam's, BMW, Mitsubishi, GNC, Merry Maids, Home Instead Senior Care, State Farm, Naturalawn, and more.
# # #
If you would like more information about this topic, please contact Emily Walsh at 800-377-4683 or email at Emily.Walsh(at)DeliverMedia(dot)com.