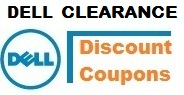 Alert shoppers can receive up to 70% off popular Dell products by taking advantage of this Winter Clearance Sale.
(PRWEB) December 30, 2014
Bizwaremagic.com is currently featuring Dell's Winter Clearance Sale where savvy online shoppers can save up to 70% off popular Dell products. The current sale runs from Dec. 23, 2014 to Jan. 5th, 2015. Free shipping is also offered on most items, but bargain hunters are advised to see the official Dell site for complete terms and conditions.
As an ongoing feature of its Online Laptop Buyer's Guide, the 12-year-old small business website regularly posts discount coupons from major manufacturers such as Dell for its subscribers and visitors. The latest Dell Clearance Event is a perfect example of how alert consumers can save money by using this buyer's guide and coupons.
Some of the featured clearance items include the following discounts: get 20% off the new Inspiron 11 3000 2-in-1 touch laptop for around $400. Receive 43% off the Inspiron 15 5000 touch laptop which is priced at $599.99. Plus, alert shoppers can take 16% off the Inspiron 17 5000 series notebook with an Intel Core i3 processor, 4GB of memory, 500GB hard drive and Windows 8.1 for just $499.99.
Desktop coupons include the following bargains: receive 31% off the Inspiron 3000 desktop which is discounted at around $500. Get 22% off the XPS 8700 desktop with an Intel Core i5 processor, 12GB of memory, 1TB hard drive, Nvidia GT 720 graphics and Windows 8.1 for $699.99.
In addition, there are some Alienware discounts worth noting. Gamers can get 25% off the Alienware TactX Keyboard which is discounted at $59.99 and they can also receive 50% off the Alienware TactX Mouse which is priced at $39.99.
Now is a great time to take full advantage of these clearance sales as many manufacturers/retailers such as Dell offer great discounts to clear out old stock and get ready for the new year. Most clearance items are limited so shoppers must act quickly in order to secure a bargain.
About Us:
Bizwaremagic.com is a 12-year-old small business solution site that offers many no-cost guides to its visitors and patrons. Over the years, it has helped thousands of computer buyers find the right information and the right discounted prices they need in order to make a savvy online computer purchase. The dedicated Dell discount coupons page can be found here: http://www.bizwaremagic.com/Dell_Notebook_Coupons.htm All products/companies mentioned above are registered trademarks of their respective owners and companies.