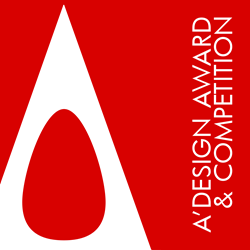 Outstanding and innovative designs will be highlighted.
Como, Italy (PRWEB) August 30, 2014
Time draws near for nomination of innovative designs, cutting-edge products, avant-garde architecture and outstanding engineering projects to the A' Design Award & Competition.
A' Design Award & Competition is the Worlds' leading design accolade reaching design enthusiasts in over 180 countries in 40 languages: A' Design Award winning works are translated to all major languages in order to connect design lovers, press members and design buyers from across the globe. A' Design Awards annually publishes the World Design Rankings, which ranks countries based on number of design awards won.
Entries to the A' Design Award & Competition are peer-reviewed and anonymously voted by an expert 50-person, internationally influential jury panel consisting of established scholars, experienced design professionals and prominent media members following strict evaluation guidelines and predetermined evaluation criteria. The A' Design Award & Competition is open to entries of professional designers as well as brands. Both concept-stage projects as well as realized projects or products in the market can be submitted. The strict evaluation methodology, the expert award jury and the anonymous voting mechanisms make A' Design Award a highly prestigious design accolade.
There are over 100 different categories with different evaluation criteria to enter works to the A' Design Award & Competition. Popular competition categories include but not limited to: Interior Design, Furniture Design, Packaging Design, Graphics Design, Architecture, Jewelry Design, Lighting Design, Arts, Digital Products, Appliances, Kitchenware, and others. Each category has different voting criteria in order to judge the entries in a fair manner. Furthermore, for each category, the A' Design Award & Competition contacts different press and media members for a broad exposure. The diversity of design categories enable A' Design Award winners to meet collaborators in the Gala-Night, in comparison to other awards where you could only meet your competitors. The complete list of design award categories can be accessed at http://www.adesignaward.com/design-award-categories.html.
The A' Design Prize, given to award winners, includes PR, publicity and marketing services such as press release preparation and distribution, networking opportunities and international meetings in addition to an exclusive invitation to the glamorous black-tie Gala-Night and Award Ceremony in Italy where award winners are presented their exclusive, 3d printed metal trophies, hardcover yearbook of best designs and design excellence certificates, in addition to the winners' kit which includes pins, stickers as well as a DVD which contains marketing collateral.
A' Design Award winners enjoy media exposure through features in prominent magazines, design interviews, inclusion in World Design Rankings, Designer Rankings and Design Classification Rankings, features at DXGN and IDNN networks, as well as gain publicity through international exhibitions. Award winners are also granted a lifetime license to use the A' Design Award Winner logo as a part of their communication. A' Design Award winners are able to integrate the A' Design Award logo to their communications to attract the attention of business leads, prospective customers and the media.
A' Design Award winner projects will be exhibited in 3 countries in 2015. First, the award winners will be exhibited at Mood, Como, Italy, followed by the exhibition in Hometex - Amsterdam, Netherlands and finally a grand exhibition will take place at Dublin, Ireland to celebrate Dublin's 2015 World Design Hub designation. Major design publications will publish a selection of the best projects from A' Design Award once the results are announced to public. Deadline for entries to the A' Design Award & Competition is on September 30, 2014 and the results will be announced on April 15, 2015 during World Design Days.
To submit work, designers and brands could visit https://www.adesignaward.com/registration.php in order to register. After registration, entrants are expected to upload their works to get a complimentary preliminary score as well as to learn their acceptance status before nomination. Before nomination, each entry is required to pass a preliminary screening and uploaded projects will receive a complimentary report on how to improve their presentation.
Press members and design enthusiasts could visit http://www.designmag.org to see some of the previous award winning works.
About A' Design Award & Competition
A' Design Award & Competition is the worlds' largest design accolade, reaching designers, artists and architects in seven continents. The A' Design Award & Competition has a philanthropic goal to promote a global awareness for good design practices and principles by highlighting the very best design work in all countries and in all disciplines. The A' Design Accolades aims to create a global awareness for good design by pushing designers, artists, architects and brands worldwide to come up with superior products and projects that benefit society. Learn more about the A' Design Awards at http://www.whatisadesignaward.com.