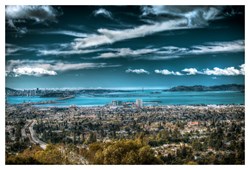 What captivates me is how natural light of the cosmos slices across texture and contour, exploding through fields in ranges of color deeper than our sense of sight... As we stop to absorb beauty surrounding us, we discover a life filled with more of it…
(PRWEB) February 04, 2014
Oakland, California City Hall will feature the colorful photographic landscapes of Diallo Mwathi Jeffery on Friday, February 7, 2014 at 11:30 am through February 28, 2014 at 1 Frank H. Ogawa Plaza in Oakland, CA on the third floor of the rotunda. Diallo Mwathi Jeffery, award winning filmmaker and photographer, will make an appearance at the exhibit opening.
The exhibit offers spectacular panoramic images of the Oakland - San Francisco skyline and architecture, picturing Oakland in a new light.
Subject matter includes both iconic and lesser known Oakland landmarks, dramatic urban landscapes and surprising perspectives of the iconic cityscape. The brilliant limited-edition color photographs on cotton and wood are signed by the artist, and range in size from 13 x 19 inches to 24 x 72 inches. You are invited to meet the photographer and view the art on display at Oakland City Hall.
Learn more about the artist at: http://www.diallo.com.