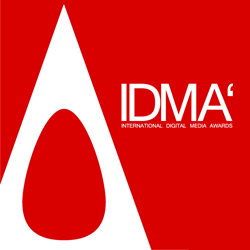 Engaging digital media campaigns, online publications and content will be highlighted.
Como, Italy (PRWEB) February 21, 2014
A' Design Award & Competition has announced the call for entries for the Fourth Annual International Digital Media Awards (IDMA), which honors editors, creative agencies and publishing companies that have created ground breaking digital publications that engage and inspire readers. Organizations, businesses, communities, schools, individuals and agencies embracing digital media worldwide are invited to enter their works.
International Digital Media Awards especially invites entries of electronic versions of traditional media publications as well as new media publications. Electronic Publications, Online Magazines, Online Newspapers, E-Books, Electronic Journals, Portable Guides & Digital Encyclopedias, Online Television & Entertainment Channels, Blogs, Collaborative Software, Mobile Applications, Digital Publication Applications, Podcasts, Enhanced Publications, Online Design Publications, Online Business & Information Portals, Forums & Digital Community Platforms, Digital Articles and Digital Content Platforms are especially invited to take part in the accolades by completing their registration.
A' International Digital Media Awards celebrate, showcase and spotlight excellence within the digital media sector, recognizing and rewarding best Digital Publications worldwide. The IDMA Accolades provide an opportunity for digital publications from all countries to benchmark their publications. Laureates of the A' International Digital Media Awards will be able to reach new and further audiences, and strengthen their position in the publication industry as award winning institutions.
Laureates will also be given a grand award winners' kit which includes the yearbook publication, the media excellence certificate, the award trophy, as well as an invitation to the exclusive gala-night and award ceremony in Italy. Entries can be made online at http://www.adesignaward.com until the 28th of February, 2014 and the awards ceremony will be held on the 9th of August 2014 at the Villa Gallia, Como, Italy. Results will be announced earlier on April 15, 2014. Entries are open to all editors and publishers as well as sales and marketing teams in the media sales sector worldwide. Entries will be peer-reviewed and judged by a 50-person jury panel of academics, design professionals and press members.
About the International Digital Media Awards
The A' International Digital Media Awards aims to highlight and recognize digital publications and broadcasting media that are not just engaging and inspiring through their original content and visual design, but also responsible, ethical and accessible. The IDMA Accolades aims to push publishers and editors worldwide to come up with better publications that engage, inspire and educate readers. Learn more at http://www.whatisadesignaward.com