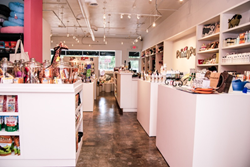 Holiday sales are a great way for customers to get more value for their money and get everyone on their shopping list something special.
Houston, TX (PRWEB) October 31, 2014
In the festive spirit of the holidays, Funny Fur Pet Boutique and Supplies store is having a huge holiday blow-out sale. Find great deals on dog clothes, organic dog toys, pet accessories including bow ties and hair bows, and more.
The sale will start on Black Friday at Funny Fur's flagship location on 3268 Westheimer Rd, Houston, TX 77098. Fido and pet parents can find amazing deals on winter wear items like dog pajamas and sweaters, dog beds, pet travel carriers, dog bows and barrettes, holiday items for pets, tasty all natural pet treats, and much much more. There will also be adoption events scheduled throughout the holidays, including a Meet & Greet with Lucky Dog Rescue on the 8th of November, and an education and adoption event with Guardian Pit Bull Rescue on October 18th.
In addition to the big holiday sale, regular sales on select products are scheduled for the month of November. In honor of Adopt-a-Senior-Pet Month, supplements will be on sale for 10% off the regular price from November 9th thru 15th.
Come check out the great deals and buy gifts for the pets and pet parents on the holiday list. Make pets happy with a gift from Funny Fur this holiday season.
Funny Fur supports local rescues and non-profits with in-store pet adoption, educational events, and fundraising events. Please visit http://www.funnyfur.com, Funny Fur's River Oaks store Facebook page, or subscribe to their store newsletter for a full schedule of upcoming events.
To learn more about Funny Fur store events, special offers, and sales, please visit their website, followed them on Facebook, or signing up for their newsletter.
About Funny Fur
Funny Fur is a premier pet supply store and boutique specializing in designer dog clothes, dog carriers, and other pet accessories for discriminating pet parents. Funny Fur also offers a great selection of all natural and holistic pet foods and treats, raw pet food, and all natural solutions for general household and pet care products. Funny Fur contributes to local animal rescues and other non-profit organizations dedicated to the wellness of animals.