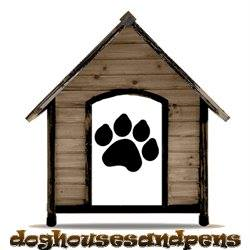 (PRWEB) April 09, 2014
Vickie Cline is proud to announce the creation and launch of her new website venture, http://www.DogHousesAndPens.com. The website offers a wide variety of different dog containment products, including dog crates, playpens, kennels, and houses. Cline was inspired to start this website, because of her own dog that doesn't like to be inside. Her own struggle to find a quality solution for keeping him safe and secure outside encouraged her to start a website selling different options that dog owners could use either indoors or outdoors to keep their pets happy and safe.
There are many excellent dog products featured within the merchandise of DogHousesAndPens.com. The website offers a wide variety of dog houses and dog house accessories to keep dogs safe and warm outside. The website also offers other items including dog playpens, chain link dog kennels, wicker dog crates, hunting dog boxes, and much more. In the future, Cline plans to update the product lines that are already offered on the website. By periodically updating the website and its merchandise, she hopes to ensure that she offers only the highest quality products and information to her customers.
Easy and direct shopping is of utmost importance to Cline in regard to the layout and merchandise offered on DogHousesAndPens.com. She plans to provide customers with a website that makes it easy to shop for dog confinement systems without being dragged into also buying dog apparel or other fluff items that other websites might be offering as well. She hopes to provide customers with an incredible shopping experience by keeping shopping streamlined and efficient.
To complement the main website, Cline is also launching a blog located at http://www.DogHouseBlog.com. The blog will feature topics that relate to dog confinement in general. It will highlight some of the products offered on her website and offer information to help customers decide which type of dog confinement is best for their individual needs.
About the Company:
DogHousesAndPens.com, a division of RETB 90, LLC, is owned and operated by Web entrepreneur Vickie Cline.
****
Vickie Cline
http://www.DogHousesAndPens.com
(719) 691-4799
iePlexus, Inc.
http://www.iePlexus.com