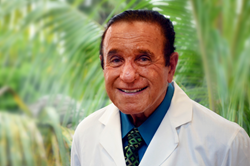 Tampa, FL (PRWEB) February 27, 2014
As Black History Month comes to an end, Lung Institute's Medical Director, Dr. Burton Feinerman, reflects on how he is still influencing change in medicine today. Practicing medicine for over half a century, Dr. Feinerman has distinguished himself as a world-renowned physician in the field of regenerative medicine with the development of innovative stem cell treatments for lung diseases like chronic obstructive pulmonary disease (COPD). His illustrious career is punctuated with a milestone of a different sort. As the owner of Opa-Locka General Hospital, Dr. Feinerman was first to admit African Americans into the only private hospital in Florida in the 1950s.
"What gave me the greatest pleasure was seeing young men and women, black or white, that lived in poverty take my advice. To work hard, study hard, and go to professional schools for medicine, dentistry, law or engineering. Their successes warmed my heart," said Dr. Feinerman.
During this time period, separate but equal was reinforced in Florida. African Americans were pressured to use separate facilities from whites for medical care, or go without medical care at all. Many physicians had German shepherds in their waiting rooms and required African Americans to use separate restrooms, waiting areas and water fountains. Dr. Feinerman refused to practice like his peers even when his life was threatened.
"I am humbled at the acknowledgement of my role as a catalyst for change during the civil rights movement in Florida," confessed Dr. Feinerman. "When I look back at this time in my life I don't see black or white, I see my patients."
About Lung Institute
At Lung Institute (LI), we are changing the lives of hundreds of people across the nation through the innovative technology of regenerative medicine. We are committed to providing patients a more effective way to address pulmonary conditions and improve quality of life. Our physicians, through their designated practices, have gained worldwide recognition for the successful application of revolutionary minimally invasive stem cell therapies. With over a century of combined medical experience, our doctors have established a patient experience designed with the highest concern for patient safety and quality of care. For more information, visit our website at LungInstitute.com, like us on Facebook or call us today at 1-855-469-5864.