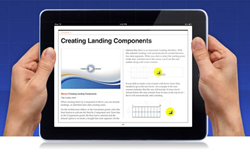 Bedford, NH (PRWEB) February 26, 2014
4D Technologies, Autodesk Authorized Publisher and maker of the industry-leading CADLearning products for Autodesk software, announces new titles and formats for their CADLearning eBook Library.
The CADLearning eBook Library is a collection of ebooks for Autodesk software that cover various applications, including AutoCAD, Autodesk Revit and Autodesk Inventor. The library includes titles that cover Essentials for beginners, New Features for users who are updating to the latest release and Certification Prep for students and professionals hoping to become Autodesk Certified.
The eBooks are now available in three formats including on the CADLearning website via a streaming online subscription, on the iTunes Bookstore for users with an iPad, and on Amazon for the Kindle.
4D will be releasing additional titles during 2014. Visit the CADLearning eBooks product page to view available titles and samples and learn how to purchase at http://www.cadlearning.com/products/ebooks.
About CADLearning
CADLearning comprehensive, self-paced professional learning content is designed to maximize performance with Autodesk 2D and 3D design, engineering and entertainment software. Users leverage CADLearning for self-paced learning, as an ongoing resource, and as a help tool. CADLearning is developed by 4D Technologies, LLC. Visit http://www.cadlearning.com to learn more.
CADLearning is a registered trademark of 4D Technologies. Autodesk, AutoCAD, Inventor and Revit are registered trademarks or trademarks of Autodesk, Inc., and/or its subsidiaries and/or affiliates in the USA and/or other countries. All other brand names, product names, or trademarks belong to their respective holders.