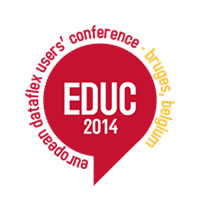 EDUC is the largest gathering for DataFlex Developers in the European region.
Miami, FL (PRWEB) May 13, 2014
The European DataFlex Users' Conference 2014 is taking place this week in Bruges, Belgium, and aims to build bridges for attendees that will further connect traditional technologies and solutions with new, upcoming trends.
The EDUC 2014 Agenda features 2 days of technical presentations as well as pre-conference training sessions, and features guest speaker Bob Snyder, Editor-in-Chief at Channel Media Europe Ltd, a content provider and channel consultant to high tech companies in Europe and Middle East.
Mr. Snyder's presentation, "Turn Change into Opportunity," will dig deep into the industry changes that will affect everyone from software tool providers such as Data Access to channel partners, developers, and end-users. As an expert in the IT industry, Mr. Snyder brings a fresh perspective to the software industry ecosystem, and will challenge developers to look at the world around them and turn change into opportunity.
Other agenda highlights include Data Access CTO John Tuohy providing an overview of the enhancements, new features and benefits in the upcoming release of DataFlex 2014/18.0, the company's flagship Windows, web and mobile database application development platform, and Vice President of Development Stephen Meeley discussing the basics of web application deployment, including using cloud-based services like Amazon EC2, understanding load balancing using the DataFlex WebApp SPLF Server, and load testing using automated tools like LoadUIWeb.
The conference is being coordinated by Oryx, Data Access' channel partner for Belgium, and all sessions are in English.
About Data Access Worldwide
Data Access Worldwide is a leading global provider of application development software, reporting tools, business intelligence solutions, and professional services. The company builds advanced software tools that IT professionals use to develop database independent business solutions. As consultants, the company applies their software tools and expertise to help clients automate business processes, enhance customer service and utilize information assets to make informed strategic and tactical business decisions. Data Access Worldwide has delivered over 400,000 Visual DataFlex and DataFlex software licenses to application customers in accounting, healthcare, finance, insurance, hospitality, manufacturing, transportation, and government sectors. Established in 1976, Data Access Worldwide is headquartered in Miami, Florida with regional offices in Hengelo, The Netherlands; São Paulo, Brazil; and Melbourne, Australia. A network of distributors and channel partners deliverhtt and support the company's products in over 20 countries.