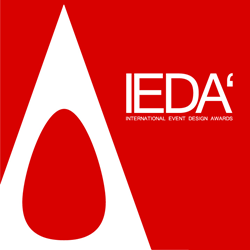 Best events will be highlighted.
Como, Italy (PRWEB) February 24, 2014
The A' Design Award & Competition (A' Awards) has today announced the last call for entries for its prestigious annual International Event Design Awards (IEDA), celebrating the exceptional accomplishments of event organizers, PR companies, exhibition and happening designers worldwide.
International Event Design Awards are open to event operators, interior designers, public relations companies, trade-fair organizers, event managers and support service providers worldwide regardless of the event type, audience, size, attendance, or location. Entries can also be submitted by marketers and PR agents on behalf of their clients.
IEDA program is especially open for entries of annual events, informative and educative events, happenings that are part of public relation campaigns, regular or repeating events, new events, local or national events, events that promote places, events that promote products and events that promote causes. Events such as exhibitions, openings, awards, competitions, conferences, product launches, parties and trade-fair organizations are welcome to take part in the accolades.
Recognition from peers is one of the most prized accolades in any professional's career thus entries to the International Event Design Awards will be peer-reviewed and judged by a 50-person international jury panel of scholars, established design professionals and press members. Events will be voted on criteria such as ingenuity, originality, innovation, value creation, news worthiness and social aspects.
With just several days to go till the entry deadline, the International Event Design Awards encourages professionals in event organization industry to use the simple nomination process to put a spotlight on the projects they want recognized. Competition rules and official entry forms are available at A' Design Awards official website at http://www.adesignaward.com.
International Event Design Award winners will receive the design excellence certificate, the exclusive and unique award trophy, yearbook publication as well as invitation to the Gala-Night and Award Ceremony in Italy. Applications will be accepted up until midnight GMT+1 on February 28, 2014, and winners will be announced on April 15, 2014.
About the International Event Design Awards
International Event Design Awards aims to feature best and most innovative event designs worldwide. The International Event Design Awards were especially established to recognize event organizers and event design professionals from all countries who contribute to improvement of lives through their innovative, educative and socially responsible events and to recognize outstanding contributions to the events industry.
About the A' Design Award & Competition
A' Design Award and Competition has a philanthropic goal towards supporting good and original design projects that improve people's lives, support the international creativity sector, and spark innovation in all industries. A' Design Award & Competitions are organized in hundred different design fields each year to highlight and support the best designs from all countries in all industries. Learn more about the A' Design Awards at http://www.whatisadesignaward.com.