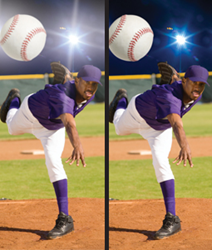 Backed by more than 20 years of scientific research, EyePromise supplements contain ingredients scientifically-proven to reduce light sensitivity, improve contrast, reduce glare and combat dry eye symptoms.
St. Louis (PRWEB) April 01, 2014
Stumbling to find a seat in a dark theater while waiting for your eyes to adjust, straining as you step into the glare and brightness of the midday sun, or trying to blink away the halos around headlights as you drive at night? Most people over age 30 can relate to these experiences, which can be signs of deteriorating eye health. According to the American Academy of Ophthalmology and Prevent Blindness America, vision impairment and blindness has spiked by 23 percent in the United States since 2000*. The good news is that one brand, EyePromise®, is making it their mission to help protect and preserve the health of the body's most important sensory organ—the eye.
EyePromise natural eye health vitamins provide the highest-quality nutritional ingredients to help people protect their eyes and experience better quality vision in their daily lives—whether that means seeing the colors of the fall foliage more brilliantly, reducing discomfort associated with bright lights or sudden changes in light, or simply feeling more confident driving at night. Backed by more than 20 years of scientific research, EyePromise supplements contain ingredients scientifically-proven to reduce light sensitivity, improve contrast, reduce glare and combat dry eye symptoms. With more than 40-million doctor-recommended doses safely consumed, EyePromise eye vitamins are proven, reliable, and are now NSF Certified for Sport®, which means they meet the organization's strict independent certification guidelines.
"When you consider that 85 percent of the information we assimilate comes to us through our eyes, it makes sense that the public is beginning to make eye health more of a priority," said Dennis Gierhart, Ph.D., founder of ZeaVision®, the parent company of EyePromise. "Many people do not realize the important role nutrition plays in helping maintain quality vision. We are committed to making it easier for everyone to get the nutrients their eyes need to perform their best."
Launch of EyePromise vizual EDGE™
EyePromise supplements have been a staple in eye doctor offices for years, but now the brand is introducing its first product, EyePromise vizual EDGE, targeted directly to health-conscious consumers. The patented formula combines the highest level of dietary zeaxanthin available in a single tablet (14mg), plus lutein, the two nutrients crucial for eye health. Studies show that consumption of high levels of zeaxanthin is associated with reduced risk of macular degeneration. The product was developed based on the success of EyePromise vizual EDGE PRO™, a popular formula known among professional athletes to enhance one's ability to see objects better and, therefore, react faster.
"Once we saw the results among athletes, we knew that the general public would be interested in experiencing improved vision quality. When one's eyes perform better you perform better," said Dr. Gierhart. "EyePromise vizual EDGE is unique in that it contains the highest levels of natural dietary zeaxanthin in one softgel of any supplement on the market, and in the proper 2:1 ratio of zeaxanthin to lutein found naturally in the macula of the eye."
EyePromise vizual EDGE has been shown to:

Reduce light sensitivity
Increase contrast
Reduce glare often associated with night driving
Enhance color saturation
Improve responsiveness to changes in levels of light
The daily, one-softgel formula means people can now enjoy a better quality of vision easier than ever.
Experiencing an EyePromise Moment
Many people do not realize how much their vision quality decreases over time. After taking EyePromise eye vitamins for several months, they understand what they were missing – from feeling more confident driving at night or enjoying the vibrancy of the spring blooms to gaining a visual advantage in their tennis or golf game.
"At EyePromise that point when someone realizes the difference has a name—it's called the EyePromise Moment. We have all had them," said Dr. Gierhart. "Multiple clinical studies and years of consumer use demonstrate the effectiveness of EyePromise, however the most important and impactful learning, and what wins people over is when they experience their own EyePromise Moment for themselves."
More from EyePromise
EyePromise vizual EDGE joins the ranks of a well-respected portfolio of products from EyePromise that includes:

EyePromise EZ Tears™ – Dry eye formula guaranteed to provide relief in 30 days
EyePromise vizual EDGE PRO – Visual performance formula designed for athletes and professionals
EyePromise DVS – Retinal health formula that supports blood vessel health
EyePromise Zeaxanthin and EyePromise Zeaxanthin + Lutein – Vegan-friendly formulas that contain 10mg of natural dietary zeaxanthin and lutein
Visitors can learn more about the EyePromise portfolio and purchase the products online here. They can also stay up-to-date by liking the EyePromise Facebook page or following EyePromise on Twitter.
EyePromise is dedicated to educating the public about the role of nutrition in eye health, and the importance of an annual eye exam by an eye health professional. The company is currently marketing EyePromise eye vitamins for distribution at select retailers and recently launched a new website at eyepromise.com.
For additional information, please visit the EyePromise newsroom.
*Prevent Blindness America, Vision Problems in the U.S. Report, June 2012. Accessed at http://www.visionproblemsus.org.
About ZeaVision and EyePromise
ZeaVision, the parent company of EyePromise, is passionate about fighting vision loss and preserving healthy vision through ocular nutrition. With more than 20 years of research, ZeaVision pioneered the use of Zeaxanthin, a natural antioxidant and photo-protectant, for eye health use. EyePromise science-based nutraceuticals offer the highest levels of dietary Zeaxanthin available, and are developed for patients suffering from dry eye symptoms and those at risk for AMD. With more than 40-million doses consumed, EyePromise products are made in the U.S.A from the highest-quality, natural ingredients.
ZeaVision and EyePromise are the respective logos and registered trademarks of ZeaVision, LLC. All rights reserved.